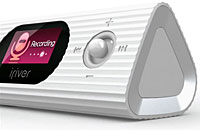 We generally can't get too excited about the launch of yet another Personal Media Player – after a while they all start to look the same to our product-swamped eyes – but we have to say iRiver's new T50 PMP looks rather special indeed.
Perhaps inspired by Swiss chocolate Toblerone bars, the T50 comes in a natty triangular form, with the metallic, industrial-styled casing looking like it could take a few tumbles down the Alps too.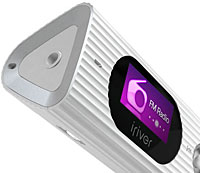 A tiny 1-inch 128 x 64, 65k colour CSTN LCD display gives status feedback and if the promo pics are anything to go by, it's a mighty fine looking little screen too.
The player comes with 1GB of onboard flash memory and offers an impressive 52 hours of playback from a single AAA battery – a pretty impressive tally if it manages that in the real world.
Multimedia support comes in the shape of MP3, OGG and WMA DRM10 audio playback, and it can also read BMP images (although you'll need your own built-in macro lens to see much on that diminutive screen.)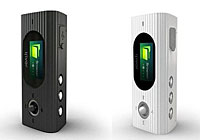 The unit also packs in a handy FM tuner and voice recorder, with functions controlled by a wee joystick.
Produced in black or white finishes, the T50 measures up at 2.9 x 1.2 x 1.0 inches and will be available in Japan for around 10,000 Yen ($85) from 14th April. There's no news yet of a UK/European release. Bah!
Specifications:
Product Type Portable Audio Player
Weight 32 g
Dimensions 73.1 x 30.9 x 27.3 mm
Interface Type USB 2.0
Storage type Flash
Capacity 1 GB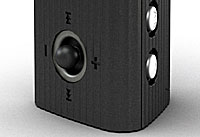 FM Radio Yes
Voice Recording Yes
ID3 tag support Yes
Supported audio formats MP3, Ogg Vorbis, WMA
Signal-to-noise ratio 90 dB
Battery type AAA Alkaline
Rated battery life (audio) 52 hours
Picture formats BMP