In our 'umble kitchen, we're happy to make do with a Pure DMX-50 system and a rather ropey Citizen handheld colour TV, but for the hostess with the mostest who really wants to impress, the Philips DCD778 Docking Entertainment System could be just the thing.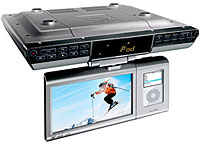 Designed to be fitted under a kitchen cabinet, the Philips DCD778 sports a flip down 8.5-inch widescreen LCD display with an iPod docking bay (compatible with fourth- and fifth-generation iPods, the iPod mini, and iPod nano).
With the iPod safely slipped in, users can play back audio and video files, or fire up the DVD player which supports DVD, (S)VCD, MP3-CD, CD(RW) and Picture CD.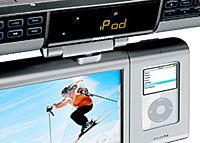 For a bit of Jonathan Ross while you create your Master Chef-challenging creations, there's a digital AM/FM tuner onboard as well as a cooking timer and clock, and wireless remote.
TV viewing options come in the shape of an ATSC/NTSC TV tuner, with the sound being played back via the built-in stereo 2-inch speakers.
Although we're definitely down with the technical wizardry, we have to say that the Philips doesn't really sizzle our bangers when it comes to looks, and we suspect that it wouldn't be long before the thing's high end looks soon got marred with greasy finger marks and bits of (veggie) sausage fat.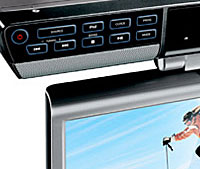 The Philips DCD778 Docking Entertainment System is expected to start shipping in the US next week for around $400, although there's no news on a UK release.