In the highly competitive MP3 player market, every single ounce of extraneous lard could result in lost sales, so Creative's boffins in Japan have been working hard to slim down their popular Zen players.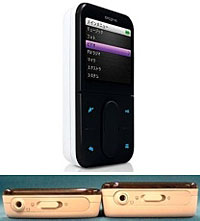 Fresh outta hi-tech Fat Farm, the new Zen Vision M and W models have managed to reduce their bulk by 15% on previous versions while wedging in a bigger hard disk.
Vision M
Looking at the vital statistics, the Creative Zen Vision M measures up at a pocket pleasing 62x104x19mm (slimmed down from 22.1-mm to 19mm.)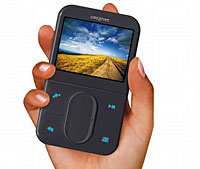 The rather desirable little fella weighs in at a light as heck 170g (and that includes the battery) and comes with a 2.5 inch colour screen.
Despite its featherweight form, the device manages to pack in a fairly generous 60GB of storage, which should be enough to keep punters entertained on all but the longest journeys (British Rail delays notwithstanding).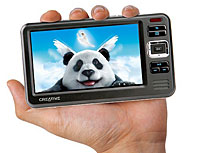 Vision W
The Zen Vision W has also spent time on the juddery slimming belt machine, and now comes in a 134x75x22mm package (slimmed down from 26.4mm to 22mm) and weighs 280g, including battery.
There's also 60GB of onboard storage and a generous 4.3 inch display, although some may be wondering what happened to the 80GB and 100GB models.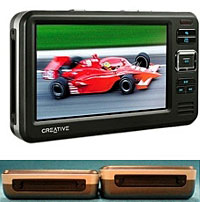 When?
At the moment, there's only been an announcement on the Creative Japan site, so it may take some time before us Brits can get our grubby hands on these puppies.