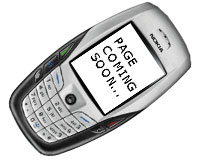 Three Quarters Of Consumers Naffed Off With Mobile Web
According to a study by the Online Publishers Association, only a quarter of punters who have used the mobile internet were chuffed with the experience, with the biggest complaint being tardy load times.
The report also found that 76% of UK consumers were able to access the web from their phones with more than half of that total connecting to the internet.
Find out more mobile related facts here: online-publishers.org
Palm Hire Ex-Apple Hotshot Designer
We still can't work out if they're going to be bought out or not, but the New York Times is reporting that Palm may be planning their answer to the iPhone after hiring former Apple computer engineer, Paul Mercer.
Mercer joined Apple in 1987 and was the lead designer of Version 7 of the Macintosh finder before founding a software tools firm called Pixo which was involved in designing the first version of the iPod user interface.
Described as, "the best of the best in this space," by Paul Saffo, a Silicon Valley forecaster, Mercer recently worked for Samsung to design their Z5 MP3 player, which went on to be a monster hit in South Korea.
Apple launches iLaunch
Steve Jobs unveils new product-unveiling product:
"The iLaunch runs Keynote-formatted presentations in high definition through a built-in projector while displaying a 3-D rotating image of the product.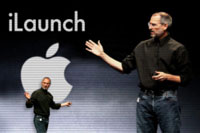 Voice-recognition software, Apple's most advanced to date, can recite a speech highlighting the features of the device while injecting several clever digs at competitors.
Should a product demonstration experience a glitch or malfunction, the iLaunch boasts a complex algorithm that can automatically produce humorous and distracting quips."