To the sound of the gnashing of teeth and wringing of hands of recent D40 purchasers, Nikon has announced an upgraded version of the camera, the Nikon D40x.
Essentially identical to the D40, the D40x comes with a much beefier ten megapixel CCD (up from 6 megapixel) and an improved ISO rating going down to ISO 100 (the D40 could only manage an ISO 200 base sensitivity).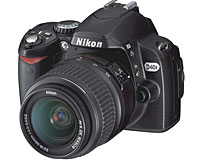 Nikon claim that the battery life has been extended to allow up to 520 images per charge (better than the 470 images for the D40) and can rattle off more photos in continuous shooting mode (3 frames per second compared to 2.5 fps for the D40).
As with its predecessor, the D40x provides a capable and highly affordable route into the highly rated Nikon SLR system, and comes with a super fast power up time (0.18 seconds), Nikon's 3D Colour Matrix Metering II, an improved Image Processing Engine, a bright viewfinder and a large 2.5″ LCD screen.
There's eight 'Digital Vari-Program modes' on offer to help beginners get to grip with the camera's capabilities, with the option to engage manual control and boldly go into aperture and shutter speed settings.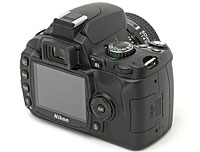 In-camera editing tools let snappers adjust compensation, correct red-eye or use monochrome effects to get that Ye Olde Black-and-white or Sepia tone effect.
With Clint Eastwood-esque squinting eyes, the D40x has clearly got the Canon EOS 400D (Digital Rebel XTi) in its sights, and with a highly competitive price of $799 (including the 18-55 mm kit lens), it'll be interesting to see how Canon reacts.
The D40x will be launched worldwide at the end of March 2007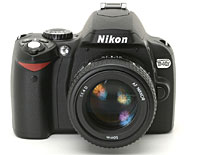 Specifications:
Price US: $ 729 (body only), with 18-55 mm lens US: $ 799
Body colour Black or Silver
Sensor 23.7 x 15.6 mm CCD sensor, Nikon DX format (1.5x FOV crop), 10.2 million effective pixels
Image sizes 3872 x 2592 (Large, 10.0 MP), 2896 x 1944 (Medium, 5.6 MP), 1936 x 1296 (Small, 2.5 MP)
Image quality NEF (12-bit compressed RAW), JPEG fine, JPEG normal, JPEG basic, NEF (RAW) + JPEG basic
Lens mount Nikon F mount (with AF coupling & AF contacts)
Lens compatibility Type G or D AF Nikkor, AF-S, AF-I, Other Type G or D AF Nikkor, PC Micro-Nikkor 85mm f/2.8D, Other AF Nikkor*2/AI-P Nikkor
Autofocus Three area TTL phase detection, Nikon Multi-CAM530 autofocus module, Only with AF-S or AF-I lenses, EV -1 to +19 (ISO 100 equivalent, at normal temperature)
Lens servo Single-servo AF (AF-S), Continuous-servo AF (AF-C), Automatic AF-S/AF-C (AF-A), Manual focus (M)
AF Area mode: Single Area AF, Dynamic Area AF, Closest Subject Priority Dynamic Area AF
Focus tracking Predictive focus tracking automatically activated according to subject status in continuous-servo AF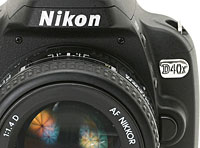 Focus area One of three areas can be selected
Focus lock Focus can be locked by pressing shutter-release button halfway (single-servo AF) or by pressing AE-L/AF-L button
AF Assist White light lamp
Exposure mode Digital Vari-program, Auto, Flash off, Portrait, Landscape, Child, Sports, Close up, Night portrait, Programmed auto (P) with flexible program, Shutter-priority auto (S), Aperture priority auto (A), Manual (M)
Metering TTL full-aperture exposure metering system, 3D color matrix metering II, 420 segment RGB sensor, Center-weighted, spot
Metering range: EV 0 to 20 (3D color matrix or center-weighted metering), EV 2 to 20 (spot metering) (ISO 100 equivalent, f/1.4 lens, 20 °C)
Exposure compen. +/- 5.0 EV, 1/3 EV steps
AE Lock Exposure locked at detected value with AE-L/AF-L button
AE Bracketing None
Sensitivity Auto, ISO 100-1600, ISO 3200 equiv. (HI 1)
Shutter Combined mechanical and CCD electronic shutter, 30 to 1/4000 sec (1/3 EV steps), Flash X-Sync: up to 1/200 sec, Bulb
White balance Auto (TTL white-balance with 420 pixels RGB sensor), Six manual modes with fine-tuning
Image parameters: Preset modes: Normal, Softer, Vivid, More Vivid, Portrait, B&W
Color mode: Ia (sRGB), II (Adobe RGB), IIIa (sRGB)
Viewfinder Optical fixed eye-level, Penta-mirror type, Built-in diopter adjustment (-1.7 to +0.5 m-1)
Viewfinder information: Focus indications, AE/FV lock indicator, Shutter speed, Aperture value, Exposure/Exposure compensation indicator, Exposure mode, Flash output level compensation, Exposure compensation, Number of remaining exposures, Flash-ready indicator
LCD monitor 2.5″ TFT LCD, 230,000 pixel
Built-in flash: Auto pop-up in Auto, Vari-program modes, Manual pop-up in P, S, A or M modes
Guide number: approx. 17 at ISO 200
Shooting modes Single frame shooting (S) mode, Continuous shooting (C) mode: approx. 3.0 frames per second (slower with NR)
Continuous buffer: JPEG: Limited only by storage, RAW: Approx. 9 frames (shooting continues at a slower rate)
Self-timer: 2, 5, 10 or 20 sec
Storage: Secure Digital / Secure Digital HC, FAT / FAT32
Video output: NTSC or PAL selectable
Connectivity: USB 2.0 (Hi-Speed)
Dimensions 126 x 94 x 64 mm (5.0 x 3.7 x 2.5 in)
Weight: (no batt) 71 g (1.0 lb), (inc. batt) 522 g (1.2 lb)