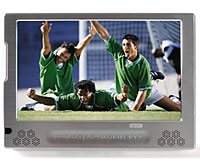 Keen to maintain its position as the Dark Master Of All Things PMP, Archos have announced the latest addition to its Personal Media Player, the 704 Wi-Fi.
A big'n'beefy, take-no-prisoners kind of affair, the 704 Wi-Fi comes with a massive seven-inch screen, a capacious 80GB hard drive, a DVR dock for recording TV shows, remote control, Opera web browsing and – not surprisingly – a hefty price tag to boot.
The $549.99, 1.4-pound beastie comes in a natty brushed-aluminium finish, with the front dominated by an impressively high resolution 800×480 pixel touch screen display, with two wee stereo speakers underneath.
Button freaks may be found wanting as all the navigation controls are activated via the touchscreen, either by using your trusty digit, or employing one of the two included styli.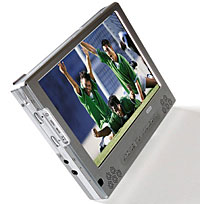 As befits its media player billing, this puppy can play a ton of video formats including MPEG-4, AVI, Divx and WMV video files, and MP3 and WMA audio files (with optional plug-ins for h.264, MPEG-2 MP@ML, and AAC support). There's also support for PlaysForSure.
The Archos can also play back bought movies from Amazon Unbox, AOL, CinemaNow, and Wal-Mart, but – surprise surprise – iTunes' Fairplay-protected files won't work with the player.
Video playback battery life is claimed at 'up to five hours', which should be good enough for all but the most lengthy of art house films.
The combination of the large screen and bundled Opera tabbed web browser should make surfing the web a whole lot more fun than some handheld devices, although there's no support for Flash (so YouTube's off the menu for now).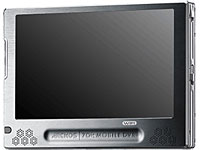 Initial reviews say that the player can suffer from sluggish performance, with an irritating "one-to-two-second delay between an input and an action", which may give hyperactive surfers the heebeegeebees.
Although it's a pricey number, the Archos 704 Wi-Fi packs a ton of functionality into its slightly portly frame, and with its big screen could be the perfect partner of long journeys. But don't try wedging it into your pocket.
Specifications: Archos 704 Wi-Fi
Capacity 40GB (80GB in US)
Display 7 inches (800 x 480 pixels, more than 16 million colours)
Audio Formats MP3, WAV, WMA, protected WMA (AAC and AC3 with optional plug-ins)
Photo Formats JPEG, BMP
Video Formats MPEG-4, WMV, protected WMV (H.264, MPEG-2, and VOB with optional plug-ins)
Wireless Wi-Fi 802.11g
Battery Life 5 hours claimed
PC Interface USB 2.0
Size 5.2 x 3 x 0.6 inches
Weight 1.4 pounds