With dSLRs plummeting in price, upmarket bridge cameras are having to up the feature set to keep punters interested, and Sony are hoping that their replacements to last year's DSC-H2 and DSC-H5 cameras have got what it takes.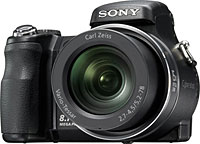 Sony's new DSC-H7 and DSC-H9 cameras come with an immense 15x optical Carl Zeiss Vario-Tessar zoom, which translates into a whopping 31-465mm range (35mm equiv) – perfect for wannabe paparazzi and lurking stalkers.
(The one advantage that the small sensors of digital compacts have over their dSLR rivals is that they can facilitate huge zooms that won't end up challenging a Northern mill chimney in size.)
The two 8.1-megapixel cameras are more or less identical, except the higher priced DSC-H9 comes with a larger LCD monitor (3″ screen with 230k colours compared to the DSC-H7's 2.5″/115k screen) and a natty fold out screen. We like them.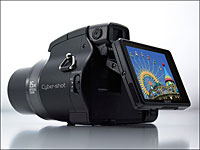 Both cameras sport face detection technology, HDTV output, red-eye reduction and an action-freezing shutter speed up to 1/4000 of a second, backed by a slew of auto, manual and scene modes.
The same Bionz processing engine that lurks inside the excellent Alpha dSLR camera is onboard, as well as Super Steady Shot optical image stabilisation and a high sensitivity ISO 3200 rating for low light shots.
Sony has also included their NightShot technology, which is a whole load of fun if you're snapping away in a coal mine, but we reckon Sony's design team must have been chewing on the crazy dust when they decided to leave out any movie modes.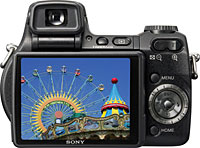 There's no RAW image capture either, an omission that will surely push keen photographers further in the direction of cut price dSLRs like Nikon's fine D40
They're still both fine looking cameras, mind, and priced at around $400 (DSC-H7) and $480 (DSC-H9), we reckon they should do well when they beam down from Planet Sony sometime in April.