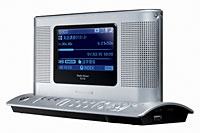 Looking like it's teleported straight off the film set of 2001:A Space Odyssey is this new futuristic radio from Olympus sporting a colossal 37GB of disk space and a 3.9″ screen.
Details are rather scarce at the moment – actually, all we're going on is a short article and some nice pics – but its curvy, silver-clad lines are pushing all the right buttons for us.
According to the limited specs available, the unit can record up 2500 hours of programming depending on the selected recording mode (32 to 128Kbps WMA), letting fans of The Archers store over a year's worth of rustic shenanigans on the device. Oh the joy!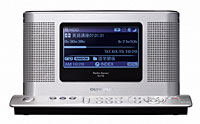 We can't see any mention of a DAB radio on the radio which suggests it's not for the UK market, but naturally there are presets galore for AM/FM bands.
According to the akihabaranews.com article, "Olympus did things very well by presetting 20 different programming depending on the frequencies you're choosing", which we think means that you can program recording schedules.
MP3 and WMA files can also be uploaded to the VJ-10 for playback and the radio can be used as external hard disk via the built in USB port.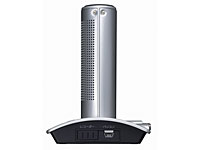 The publicity shots show the radio in what looks like a docking bay, although with no pics of the thing untethered perhaps the radio doesn't pop out after all. Which would be a bit rubbish.
The VJ-10 Radio Server measures up at 205x120x89mm, weighs 640g and we haven't the foggiest if or when it'll ever drift past the white cliffs of Dover or how much it will cost. But we still like the look of it.
[via]