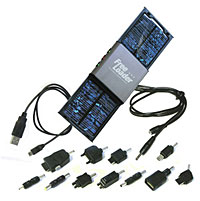 Having a ton of the latest technological gadgets bulging in your pants may give you a Noughties swagger, but you'll be looking like a prize chump if the batteries go flat, so Solar Technology's new Freeloader charger might help you keep your cool.
Billed as an 'advanced portable charging system', the portable device sports twin fold-out solar panels for that mini-Space Station look, with the makers claiming that the panels can charge up the internal battery in as little as 5 hours.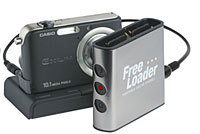 They may not sound much, but seeing as some Brit summers seem to contain less than five hours sunlight in total, it's a good job that the Freeloader has a trick up its sleeve, offering the option to charge up the internal battery via a (supplied) USB cable.
This gives you the chance to store up on battery power before you leave the house and then top it up whenever there's a bit of sun in the sky.
The 1000mAh environmentally friendly Li-ion battery seems to have a reasonable bit of oomph to it too, and is quoted as being able to power an iPod for 18hours, a mobile phone for 44 hours, PSP for 2.5 hours a PDA for 22 hours.
The Freeloader can hang on to its battery charge for up to 3 months and can conveniently charge a device while its internal battery is being topped up via the solar cells or by USB cable.
The charger comes with a power master cable and eleven adaptors to fit a ton of devices listed on their website: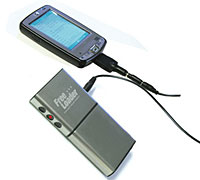 LG Chocolate series phones
Motorola V66 series and current V3 series phones
All Nokia current and N series phones
Samsung A288 and current D800 series phones
Sony Ericsson T28 and current K750 series phones
4mm straight jack for Sony PSP, Tom Tom sat nav, digital camera's, PDA's and two-way radio's
Mini USB for Blackberry Smart phones, Nintendo DS, Bluetooth headsets etc
USB 2.0 female socket for iPod, iPod Shuffle, MP3 players, smart phones, PDA's, GPS "plus much more"
Sized up at a portable 123mm x 62mm x 17mm and weighing 185g, the stylish Freeloader comes in a tough aluminium case and could prove a handy purchase for travellers, road warriors and folks looking forward to this year's festival season (Glastonbury mudstorms notwithstanding).
The Freeloader solar charger is available now from Solar Technology's website at £29.99.