Guitar bands may well be back in, but all those clunky effects pedals and old-school spaghetti cables are unlikely to impress the chix at the front, so aspiring Rock Gods may want to check out the new iAxe USB Guitar.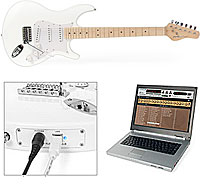 As the name suggests, this Strat-shaped guitar comes with a USB port, allowing aspiring six string warriors to plug into their laptops and access a host of cool effects.
The guitar certainly looks the part, sporting a maple neck, solid body, single-coil pickups with 5-way switching, shiny chrome machine heads and a whammy bar letting you go for a bite while the sustain continues making that 'eeeeeeeee' sound.
The 'idiot proof' software supplied lets bedroom plank spankers jam along to their own music, with the ability to slow down or speed up tracks to learn those tricky licks and difficult 'shapes'.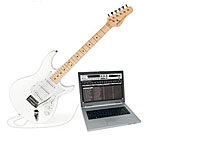 There's also a multi-track recording/editing function for laying down dual-guitar sonic attacks, delicately layered tracks or a Ronnie Spector wall of noise.
If your neighbours aren't down with your late night, death metal interpretations of teenage angst expressed through the medium of a heavy fuzzbox effect, there's a handy headphone socket to help keep the noise down to minus eleven.
The sound may well be Shea Stadium, but at just £99 the price is definitely Bull & Gate, and the USB iAxe is available now for wannabe six string renegades on the highway to desolation from online widget merchants, Firebox.