Those lovely people at Pure have launched another means of listening to DAB radio and other audio, this time in a compact micro Hi-Fi form.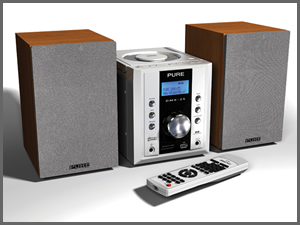 The new PURE DMX-25 DAB Micro System with MP3 playback comes with the ability to playback MP3/ WMA files from portable USB flash memory drives, SD memory cards and CDs. Beyond those terribly modern means, there's also two auxiliary inputs, letting you connect iPod, MiniDisc or MP3 player.
This micro system is Micro with the main unit being 140mm wide and 150mm tall – not much wider than a CD case.
All the DAB goodies are available including autotuning to all available stations and scrolling text showing news, sports results, artist names and track titles (as long as it's supported by the broadcaster). Pure tells us that some areas of the UK have up to 55 DAB stations these days.
The CD player isn't just for the run of the mill audio CDs. It will playback CD-R and CD-RW disks with support for CD Text and audio CD playlists. The DMX-25 also plays back MP3-CDs, including support for ID3 tags, giving significantly increased capacity.
For those of you who love to know about the guts of what you're buying – The DMX-25 is powered by the Frontier Chorus FS1010, which incorporates the revolutionary META multi-threaded processor and Universal Communications Core technologies developed by Imagination Technologies. So there!
DMX-25 is on sale from April 2007 from major retailers and independent hi-fi dealers nationwide for just £129.99 (SSP inc. VAT).
Tech Specs
Tuner: Stereo digital radio with full Band III and FM reception. ETS 300 410 compliant and capable of decoding all DAB transmission modes 1-4 up to and including 192 kbps. Supports FM RDS and RadioText.
Frequency ranges: Band III 174-240 MHz, FM 87.5-108 MHz.
CD Player: CD-R and CD-RW playback compatible. Support for 20 track audio CD playlist. Multiple playback modes (repeat, shuffle, etc.). MP3 & WMA playback, including support for ID3 tags.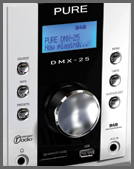 Speakers: 4 Ohms (nominal) impedance. 10W RMS power handling. Two-way design. Treated paper mid-bass driver. Custom-tuned crossover. Rosewood finish. Removable grilles.
Input connectors: Two 3.5mm line-inputs for auxiliary devices. USB host port for flash-based memory sticks (key drives) and powered media devices. SD memory card support.
Output connectors: 3.5mm stereo output for headphones.
Controls: Power on/standby, clock/sleep, source, tune/select, menu, timer, info, presets, volume, play/pause, stop, fast forward, rewind and MP3 directory navigation.
Remote: Fully featured infrared remote control. Uses 2 AAA batteries (supplied).
Presets: 30 presets (10 DAB and 20 FM).
LCD Display: LCD display with 16 x 2 characters, plus additional function icons.
Mains power supply: 240V. Euro/UK power socket adapter.
Approvals: CE marked. Compliant with the EMC and Low Voltage Directives (89/336/EEC and 73/23/EEC).
Dimensions (mm): Unit – 140 wide x 150 high (280 with CD compartment open) x 230 deep (including controls). Speakers – 130 wide x 205 high x 160 deep.
Aerial: Wire dipole DAB/FM aerial.
Warranty: Comprehensive two year warranty.