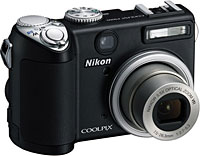 Nikon has announced several additions to its new Coolpix lineup today, but the one that's caught our eye is its high-end Coolpix P5000 prosumer model.
The specs look enticing: 10 megapixel sensor, stablised 3.5x zoom, high ISO range, 2.5-inch screen, add-on lenses and a neat, all-black compact design (3.9 x 2.5 x 1.6 in.).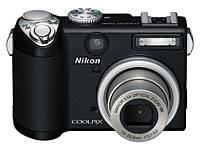 We like proper image stabilisation (rather than the ISO-booting sleight-of-hand touted by some makers) and the P5000 comes with optical lens shift VR (Vibration Reduction) technology borrowed from Nikon's upmarket SLR camera systems.
With clever-clogs angular velocity sensors (we could have used some of them last night in the pub) measuring camera movement, the camera automatically calculates the amount of compensation required, with the VR lens unit adjusting position to negate offset camera shake.
Nikon claim that their VR system provides sharp images up to three steps slower, which should give the camera an edge over some of its rivals in low light shooting.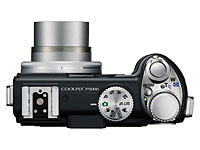 In line with most of its rivals, the P500's ISO range soars up into the grainy heights of ISO 3200 capability (at a reduced 5M capacity), with an Anti-Shake and High-Sensitivity mode automatically selecting the optimal rating.
Photographers who can't stop themselves fiddling and tweaking about with any dial they can get their hands on will enjoy the camera's Program, Shutter Priority,
Aperture Priority Auto and Manual modes, backed by 16 scene-optimised Scene modes and seven different movie modes.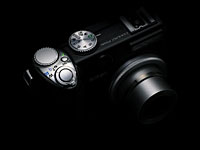 They'll also enjoy the optical viewfinder, even if it is a bit of a squinty affair, with the rechargeable Lithium-ion battery EN-EL5 promising around 250 shots on a single charge. There's a vaguely useful 21meg of internal memory with a SD card slot offering SDHC card compatibility.
Nikon have also announced optional accessories including a 0.67x Wide-angle Converter and a 3.0x Telephoto Converter lenses, with the camera's built in hotshoe ready and willing to accept flashguns from Nikon's advanced Speedlight range.