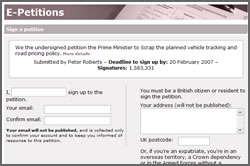 Over the last few weeks there's been a lot of attention drawn to the huge number of votes cast by the British public in an online petition calling for the "Prime Minister to scrap the planned vehicle tracking and road pricing policy."
Over 1.5 million people have signed to show that they reject the idea from the UK government to force UK drivers to have to pay £200 for the privilege of having all of their car journeys monitored, recorded and charged accordingly.
On Saturday, the Guardian newspaper picked up on the idea that, as part of the registering views on the site, users had to enter their names, postal and email addresses, giving the UK government direct contact with each and every person who used the petition to voice their disapproval on the road usage charging scheme. They postulate that this gives them the opportunity of contacting the objectors directly to try and cajole them into changing their minds.
Quite if this is something that the petitioners realised when they placed their votes is unclear.
The site itself isn't doesn't really help either "our email will not be published, and is collected only to confirm your account and to keep you informed of response to this petition."
Closer examination of the Privacy Policy makes it a little clearer- "unless you ask us not to, to write to you a maximum of two times about the issues raised in the petition."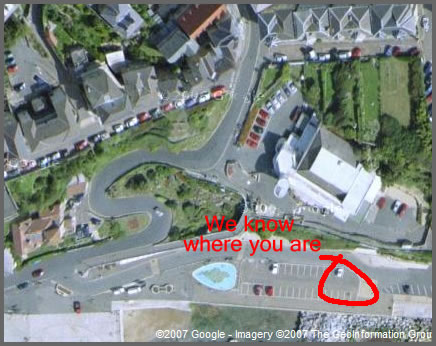 The straw poll that we've taken among some of those who had placed their votes, felt their email addresses were only required to validate the vote. They weren't aware of the chance to opt-out of being contacted at a later date.
Blair writes about writing
Sunday's Observer sees Tony Blair publishing a piece explaining what a great idea it is to have over 1.5 million people telling him he's wrong, and how it has sparked debate … which luckily enough was just what he wanted … he tells us now. (Let's hope he doesn't mean like his nuclear power debate).
He goes on to say "What it has given us is the ability, which was simply not there before, to engage with those who have signed the petition," he then confirms that "Over the next few days, I will be sending out a response to everyone who has signed the petition against road charging, explaining the problems the country faces and why I believe road charging is surely part of the answer here as it is in many other countries."
So is the whole e-petition idea a ruse just to find out who opposes government policy – then use this information to write to them directly to 'inform them of why they're wrong not to be thinking the same way as the government.
If they find out this isn't successful with all of the voters, they will be taken into detention centers and have it beaten into them (OK, I made this last bit up)
I suspect people will want to have their say, but when they receive government spin in return, will stop using their real email addresses and start taking advantage of temporary email addresses like Temporary inbox.
Many people have also questioned whether they should pay yet more money to use their cars as there's already an effective tax per mile of car usage – the heavily taxed petrol that the UK government already imposes.