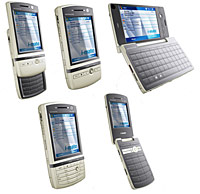 In an advanced Hedge-Betting exercise, i-mate has announced its new range of Windows Mobile devices, with a set of designs mirroring just about every handset currently available on the market.
Working on a "Oooh! Suits you sir", philosophy, it looks like consumers will be hard-pressed to not find a form factor they feel comfortable with, although the gold metallic and black styling may not be to everyone's taste (we have to say we're not feeling the love).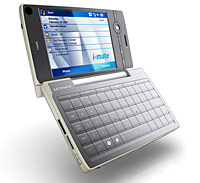 Christened the "Ultimate" range, the WM6-powered devices – all five of 'em – are numbered 5150, 6150, 7150, 9150, and 8150 (clockwise from the upper left in the compilation photo) – if you're bored, you can play "spot the inspiration" and see if you match i-mate's new offerings to current designs by other manufacturers.
Back to the new phones, you can't knock the i-mates for lacking in functionality, with the handsets sporting a minimum of 256MB of ROM, beefy 262k VGA displays (480×640 pixels), tri-band 3G radios, Bluetooth 2.0, FM radios and, we assume, Wi-Fi.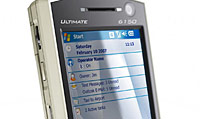 Full details of the whole range are still dribbling through, but we've learnt that the Ultimate 5150 slider comes with an Intel Bulverde 520MHz CPU, VGA screen, 256MB ROM and 128MB RAM, Wi-Fi, microSD memory card slot and a 2.0 megapixel camera.
[Via]