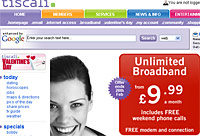 Tiscali has unveiled plans to launch a television service for its broadband subscribers, offering more than 30 digital channels and on-demand programming.
The new Tiscali TV service will be available from next month to customers subscribing to the company's 2Mbps 'dual play' broadband package.
Launching on 1 March 2007, the fifteen quid deal dishes out 2Mbit/s broadband access, serving up over 30 digital TV channels, 'catch-up' TV for some BBC programmes, plus access to a further 100 hours of on-demand programming.
The £20 triple-play deal bungs in line rental and free weekend telephone calls, with movies on-demand starting from £2 (€3) upwards, as well as upgrade options including Sky Sports via 'Sky by Wire.'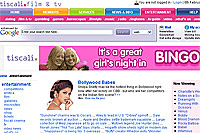 Commenting on their new offering, Mary Turner, chief executive Tiscali UK said, "The success of Freeview has shown that customers want more than five channels but don't necessarily want to pay a high monthly subscription."
"Our TV service gives customers broadband plus the channel choice they want and free on-demand programming, all for the price you would pay for a standard broadband connection," she added.
Tiscali will also be launching a new HD-enabled set-top box in July, capable of recording high-definition content onto its built in 160Gb hard drive.
With Tiscali delivering all content via the telephone line, we're not entirely sure how long HD downloads will take, but we suspect that your ice cream will be well and truly melted by the time your 3hr thriller crawls down the line.
Meanwhile, Tiscali continues to increase its coverage in the major metropolitan areas, and expects to have a footprint of around 10 million homes by the end of 2007.