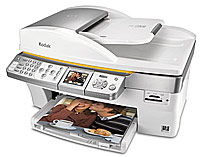 Kodak has today announced a new range of All-In-One Inkjet printers promising to reduce the cost of home printing by using pigment based inks and special paper.
The company is claiming that their new printers will be able to output "Kodak lab-quality" photos at home using premium, pigment-based inks for up to half the price of their competitors.
Boldly claiming that their new range will change the inkjet market forever, Kodak boss Antonio M. Perez insists that his company is, "changing the rules in this industry," giving consumers, "the freedom to print documents and photos frequently, easily and affordably with exceptional quality that lasts a lifetime under typical home display conditions."
(We can't help notice the king size caveat about, "typical home display conditions" contained therein. What on earth are they, we wonder?!).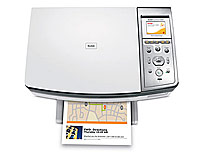 Kodak's new range starts at $150, with the top of the range 5500 model offering a scanner, document feeder, fax and LCD display for $300.
The inks will cost $15 for the colour cartridge (good for over 100 4×6 prints) and $10 for the black cartridge (which keeps on rocking for 300 pages).
The Kodak Easyshare range
The Kodak Easyshare 5100 All-in-One Printer ($150), offers print, scan and copy capabilities, and can print and copy up to 32 pages per minute in black and 22 pages per minute in colour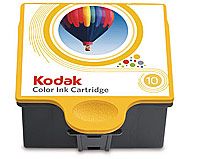 Based on the same specs as the 5100, the Kodak Easyshare 5300 All-in-One Printer ($200) bolts on a 3-inch colour LCD display and memory card slots for direct photo printing.
The top of the range Kodak Easyshare 5500 All-in-One Printer ($300) ramps up the feature set, offering all the features of the 5300, plus fax functionality, a 2.4-inch colour LCD display, an automatic document feeder and a duplexer attachment.
The printers will start to appear in US stores from March onwards, with the 5500 shipping in May 2007.