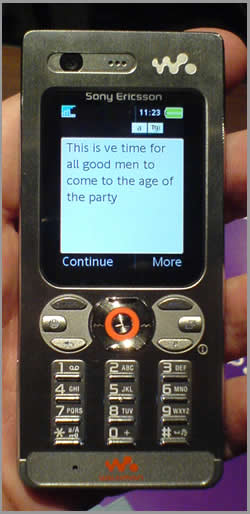 Brief notes from the launch of the W880.
First in a new line for them – a slim Walkman phone – 9.4mm thin/thick – slimmer than a CD case.
Comes complete with 1Gb memory stick (M2) which can hold 900 full length tracks, with the equivalent to 90 cds. It features the latest version on Walkman player 2.0 (the 850 has it already). They've tried to simplify the navigation, which is especially important with 900 tracks and 18 hours of music playback.
Software features: TrackID disc2phone and playnow; 2mpx camera; 3G with video calling too.
It's already in production – Shipping in February 2007 (* We suspect a dig at Apple).
There's a W88c with it just for China as there's no 3G China
It was designed in the Tokyo design studio with the software being done in Sweden.