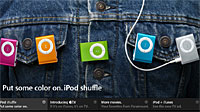 Apple has warned Windows-based iTunes users to hold back from upgrading to Microsoft Vista, because the software may not work properly with their iPods.
Citing several issues – including problems with synchronising data and playing purchased files – Apple says that they should have an updated version of iTunes for Vista "in the next few weeks".
Compatibility issues and suggested workarounds for those crazy folks who dived headlong into an early install of Vista are listed in a support document on Apple's site.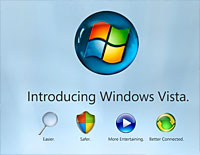 The problems included poor animation speeds, an inability to play back music and video purchased from the iTunes store and data in media, contacts and calendars not synchronising.
More worryingly, the notice posted on Apple's web site warned that iPods may be corrupted when they are unplugged from a Vista system using the 'Safely Remove Hardware' feature in the Windows taskbar.
In response, Adam Anderson, a spokesman for Microsoft's Windows division, said they didn't think that iTunes users should stop using their shiny new copy of Vista.
He added that Microsoft has employed a team of techies to work with Apple to iron out the problems, adding that they will keep at it "until they have the program running to the quality level they're shooting for." [insert your own Microsoft joke here].