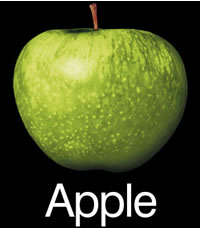 Love has broken out between the two Apples – computers and music.
Appropriate with Valentines Day arriving soon – and that it's the name of the relatively recent Beatle's album.
We've spoken to Apple Corps (music) insiders and learnt that there was genuine shock at them losing the last round of the UK trademark dispute with Apple Inc. (Computers as was – they've now dropped the computers part of the name).
Today's announcement replaces the 1991 agreement between the two and ends up with Apple Inc owning all of the trademarks related to "Apple" with them licensing back certain trademarks to Apple Corps, "for their continued use."

The terms of settlement are confidential.
With this trademark dispute out of the way, the tables are now clear for a potential deal between the two Apple's for selling the Beatles music online through iTunes. Some have spoken about the 14 February being the date of the announcement, fitting in with the Love theme again.
Our Apple Corps insider is keeping his cards close to his chest on this one. But if we hear … you'll be the first to know.