When is a 300Gb hard disc not a 300Gb hard disc? When it's in a Sky box. The fruit of Sky's much discussed drive partitioning was revealed today, with the announcement of a March launch for Sky Anytime on TV.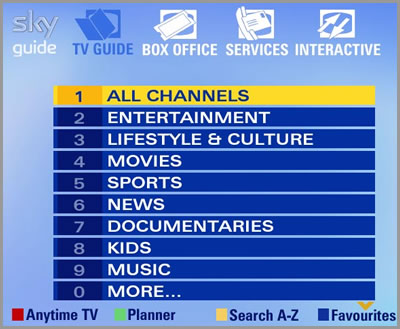 Sky Anytime on TV is a push video service that will populate users' Sky HD (and some Sky+) PVRs with shows from the Sky network, plus Artsworld, National Geographic, Disney and the Biography and History channels. In a one-to-one briefing today, we got to sample the Anytime on TV service, not to be confused with Sky Anytime on PC or the yet to surface Sky Anytime on Mobile. For brevity, we're going to call Sky Anytime on TV, SAoTV.
SAoTV consists of around 20 to 25 programmes, ranging from half-hour comedies to full length movies, chosen to represent the best of the weeks programming. In the wee hours of every night, a number of assets (between 1 to 6 hours of TV) will be pushed to the Sky box. At launch, every subscriber will receive identical content, although personalisation of SAoTV is 'on the road map', according to a spokesman.
Where it's available, HD subscribers will receive their SAoTV content in High Definition and (in the first phase at least) all content is free from adverts, with the exception of an intro promo hat can be fast-forwarded through, like any Sky recording.
The SAoTV service enjoys its own instant access button – the red key – whose previous occupant (HD Channels) now receives its own menu entry. It's presented in a similar way to the Planner screen, with the addition of a live video preview window showing a trailer of the highlighted show and some promotional text.
As new shows arrive nightly, older programmes are bumped down the SAoTV listings. Each programme has a clear expiration date, doing a Cinderella-style pumpkin vanishing act at midnight, seven days after its first appearance. If you want to keep a show permanently, you simply hit the Record button any time during that week to add it to your Planner.
The SAoTV service will initially be free and contain only programmes that have been previously broadcast, although Sky hasn't ruled out charging for content or including exclusive previews in the future.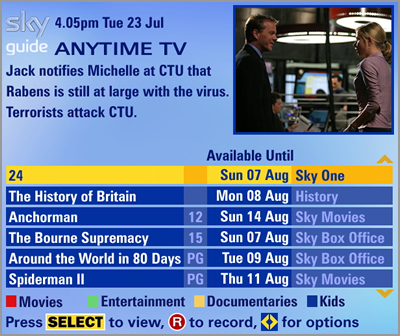 Sky Anytime on TV will be available to all HD subscribers, as well as owners of the most recent Sky+ boxes (those with partitioned hard drives): currently around 1 million households. Anyone who bought a Sky+ box within the last year should be able to use the service, although Sky will be writing to each subscriber to alert them.
Sky is also rolling out the Anytime brand to cover its Sky by broadband and Sky by mobile services.
Our take? The Sky Anytime on TV services is largely a win-win situation. Sky gets to promote high profile, expensive acquisitions like Lost, 24 and blockbuster movies – and we get to watch them free from adverts and without having to remember to set the timer (or rely on the occasionally erratic Series Link). Of course, it would be nice to see a wider range of channels on board (negotiations are on-going, but don't expect to see the terrestrial broadcasters any time soon).
However, there will always be the argument that grown-up TV viewers should be free to populate their own hard drive as they see fit – which makes the timing of Sky Anytime on TV all the smarter. HD and Sky+ subscribers have had nearly a year to get to accustomed to their truncated storage space, making the Anytime service seem like less of an intrusion and more of a bonus.