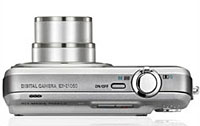 Casio has knocked out two additions to its pocket pleasing, ultra-slim Exilim Zoom range in the shape of the 10.1-megapixel EX-Z1050 and the 7.2 million pixel Exilim Zoom EX-Z75 cameras.
EXILIM Zoom EX-Z1050
The EX-Z1050 follows on from the EX-Z1000 and nudges in at a tad lighter and smaller, measuring up at 91.1 x 57.2 x 24.2 mm and weighing 125g.
Bolted on to the lightweight aluminum clad camera is a wide aspect (14:9) 2.6-inch LCD screen and a 38-114mm (35mm equiv) 3x optical zoom, backed by a sensitivity boost up to ISO 800.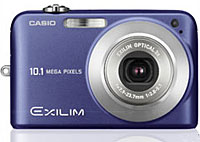 Onboard there's Casio's EXILIM Engine 2.0 offering new motion analysis technology, with the camera able to rattle off a claimed 7 shots per second until the memory tank hits full.
There's no proper optical stabilization, but the camera comes with built in "Blur-reduction technologies." In other words, the camera hikes up the ISO whenever it detects a moving object or low light.
There's also an Auto Tracking AF function for following moving subjects, and a Super Life Battery allowing up to 370 shots per charge.
The Casio EXILIM Zoom EX-Z1050 will be available in silver, black and gold in the UK (with prettier colours available elsewhere, by the look of things) and comes with a suggested retail price of £229.99.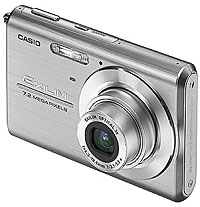 EXILIM Zoom EX-Z75
The cheaper 7.2 million pixel Exilim Zoom EX-Z75 looks to be a minor upgrade to last year's EX-Z70 and adds the same wide aspect (14:9) 2.6-inch screen and more user friendly features.
The attractive point'n'shooter comes with a 3x optical zoom, an 'Easy Mode' for dorks baffled by buttons and digital Anti Shake DSP to keep things steady.
The EXILIM Zoom EX-Z75 can expect to have a £179.99 price label stuck on it when it hits the UK in February 2007, and will be available in silver, blue and girly pink.