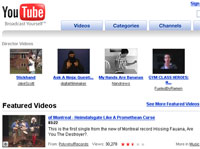 Filmmakers who upload their own movies on to the video-sharing website YouTube will soon be able to enjoy some financial rewards for their efforts.
In an interview with the BBC, YouTube founder Chad Hurley announced that the company was working on a revenue-sharing mechanism designed to "reward creativity".
Set to start rolling out in a couple of months, the deal would raise revenue to reward creative camcorder types via a mixture of adverts and short clips slipped in at the beginning of a clip.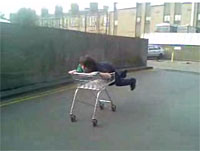 Only folks who own the full copyright of the videos can expect to receive a wedge of the moolah, with YouTube introducing the advertising technology incrementally.
Somerfield Staff Antics on YouTube
Elsewhere, UK supermarket chain Somerfield has launched an inquiry after video clips of their staff mucking about turned up on YouTube.
Various staff members are seen larking about while wearing the store's uniform, including a break dancing shelf stacker, an "extreme floor cleaner" crashing into a wall and a nutter hurtling down a car park slope on a shopping trolley.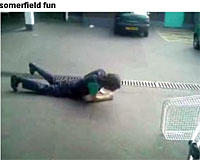 Somerfield has said that they are looking into the incidents, sternly adding that they will, "take any necessary action where appropriate."
Of course, all they've really done is helped publicise the clips for everyone else to enjoy – and reminded us of our equally daft antics in previous crap jobs.