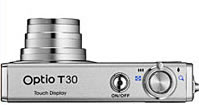 Pentax have announced two new slim-line cameras, the T30 and M30, both sporting 7 megapixel sensors and face detection.
Pentax Optio T30
The slightly chunkier T30 shaves off 0.5mm from its predecessor, the T20, adds
3200 ISO sensitivity, Face Recognition AF and AE, and comes with the same 3.0-inch 230k pixels screen with touch display control.
In line with its consumer-friendly aspirations, the T20 boasts a host of Scene Modes and auto options, and comes with a run of the mill, 37.5 – 112.5mm (F2.7 – 5.2) 3x optical zoom.
We're still not sure if we like touch-screen control systems or not but it does let people get all creative with a My Drawing mode, which lets users scribble directly on the image (using the supplied stylus) or add an illustration with the Stamp function.
Pentax cites a Digital SR (Shake Reduction) in the specs, but please note that this consists of nothing more than an ISO-boosting wheeze rather than real optical image stabilisation.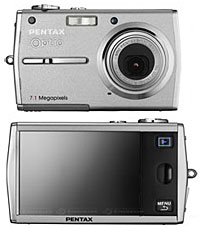 With Digital SR you may manage to grab a low light photo without blur, but odds on it'll look like it's been taken in a noise snowstorm (which rather sounds like a death metal concert).
The T30 is compatible with new SDHC memory cards, and comes with a handy feature that lets users recover images that have been accidentally deleted.
The T30 will be priced around $350 (£176).
T30 Specs
Sensor 1/2.5 " Type CCD, 7.1 million effective pixels
Image sizes 3072 x 2304 to 640 x 480
Movie clips 640 x 480 @ 15 / 30fps, 320 x 240 @ 15 / 30fps with WAV sound and Movie SR
Color Mode Full Color, Sepia, Monochrome
File formats JPEG Exif 2.2, DCF, DPOF, PRINT Image Matching lll, QuickTime Motion JPEG
Lens 37.5 – 112.5mm (equiv 35mm), F2.7 – 5.2, 3x optical zoom
Image stabilization No
Digital zoom up to 4x
Focus TTL Contrast Detection AF
AF area modes 9-point AF, Spot AF, Auto Tracking AF changeable
AF assist lamp Yes
Focus distance Normal: 0.4m – infinity, Macro: 0.15m – infinity, Pan focus: 1.3m – infinity (wide) 5.3m – infinity (tele), Manual: 0.15m – infinity (wide) 0.4m – infinity (tele)
Metering TTL metering, Multi-segment, Center-weighted, Spot
ISO sensitivity Auto, ISO 64 – ISO 3200
Exposure compensation +/- 2EV in 1/3 EV steps
Shutter speed 1/2000 – 4 secs
Aperture F2.7 – 5.2
Modes Auto Picture, Program, Movie, Voice Recording, Digital SR
Scene modes Night Scene, Landscape, Flower, Portrait, Surf & Snow, Sport, Pet, Kids, Frame Composition, Food, Text
White balance Auto, Daylight, Shade, Tungsten Light, Fluorescent Light, Manual
Self timer 10 or 2 sec
Continuous shooting Standard, High Speed
Image parameters Digital Effect: Color Filter, Digital Filter, Fish Eye Filter, Brightness Filter, Frame Composite, My Drawing
My Drawing: Undo, Redo, Line Drawing, Stamp, My Stamp, Eraser
Flash Auto, Flash On / Off, Red-eye compensation, Soft flash, Range: 0.15 – 6.0m (wide) 0.4 – 3.0m (tele)
Viewfinder No
LCD monitor 3.0-inch TFT, 230,000 pixels
Storage SD / SDHC card compatible, approx 19.9 MB built-in memory
Power Rechargeable Lithium-ion battery D-L163
Weight (no batt) 120 g
Dimensions 95 x 57 x 19 mm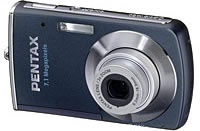 Optio M30
Coming in a pocket-unruffling 18mm body, the budget priced M30 follows on from last year's M20 and serves up Digital Shake Reduction, Face Recognition AF and AE and Macro modes for getting up real close.
As with the T30, there's "Face Recognition AF & AE" functions onboard which, as the name says, seeks out ugly mugs in the frame and endeavours to perfectly expose their gurning phizogs.
The camera comes with a slightly slower 3x zoom (F3.1-5.9) and offers a high quality movie mode, capable of churning out 640 x 480 pixels recording at 30 fps (frames per second), backed by a Movie Shake Reduction function.
The Optio M30 will be available from March for around $200 (£105).
M30 Specs
Sensor 1/2.5 " Type CCD, 7.1 million effective pixels
Image sizes 3072 x 2304 to 640 x 480
Movie clips 640 x 480 @ 15 / 30fps, 320 x 240 @ 15 / 30fps with WAV sound and Movie SR
Color Mode Full Color, Sepia, Monochrome
File formats JPEG Exif 2.2, DCF, DPOF, PRINT Image Matching lll, QuickTime Motion JPEG
Lens 37.5 – 1145mm (equiv 35mm), F3.1-5.9, 3x optical zoom
Image stabilization No
Digital zoom up to 4x
Focus TTL Contrast Detection AF
AF area modes 9-point AF, Spot AF, Auto tracking AF changeable
AF assist lamp Yes
Focus distance Normal: 0.4m – infinity (whole zoom area) 0.6m – infinity (tele), Macro: 0.1 – 1.0m (wide), Super Macro: 0.05 – 0.4m, Pan focus: 1.4m – infinity (wide) 5.8m – infinity (tele), Manual: 0.1m – infinity (wide) 0.6m – infinity (tele)
Metering Multi-segment
ISO sensitivity Auto, ISO 64 – ISO 3200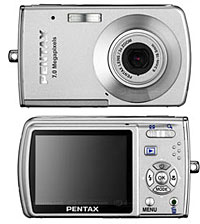 Exposure compensation +/- 2EV in 1/3EV steps
Shuttter speed 1/2000 – 4 secs
Aperture F3.1-5.9
Modes Auto Picture, Program, Movie, Voice Recording, Digital SR
Scene modes Night Scene, Landscape, Flower, Portrait, Surf & Snow, Sport, Pet, Kids, Frame Composition, Food, Text
White balance Auto, Daylight, Shade, Tungsten Light, Fluorescent Light, Manual
Self timer 10 or 2 secs
Continuous shooting n/a
Flash Auto, Flash On / Off, Red-eye compensation, Soft flash
Range: 0.4 – 5.5m (wide) 0.6 – 2.8m (tele)
Viewfinder No
LCD monitor 2.5-inch TFT, 115,000 pixels
Connectivity USB
Storage SD / SDHC card compatible, approx 21.9 MB built-in memory
Power Rechargeable Lithium-ion battery -L163
Weight (no batt) 120 g
Dimensions 97 x 57 x 18 mm