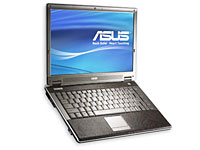 Asus has announced some of technical details of its second generation luxury laptop, the Lamborghini branded VX2, which comes compete with a leather-bound palm rest.
We're not quite sure what kind of market that Asus is hoping to attract with this heady mix of Lamborghini and black leather (a fast driving heavy metal fan, perhaps?), but the laptop sure looks mighty purdy, encased in an aluminium-magnesium alloy or carbon fibre surround with a super shiny lid..
Lurking inside the upmarket casing is 13.3-inch 1,280×800 pixel WXGA display, a large keyboard, 120GB hard drive, integrated 1.3 megapixel webcam, DVD super multi drive and an equally shiny copy of Windows Vista (Home Premium edition installed by default).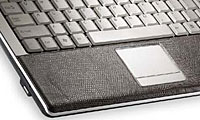 Despite the Lamborghini badge on the lid, you won't find a v8 engine inside but a rather sprightly 1.83GHz Core 2 Duo T5600 processor with Intel 945GM Express integrated graphics and 1GB of memory (with an option to install an extra half a gig).
There's bluetooth and WiFi onboard, naturellement, with the standard battery keeping the laptop revved up for around 2.7 hours of juice on a single charge.
An optional extended battery nearly doubles the uptime at the expense of a distinctly Morris Minor-esque lardy bulk sticking out of the back of the machine.
Wrapping up the specs is three USB 2.0 ports, a Firewire/IEEE 1394 interface, Gigabit Ethernet, IEEE 802.11a/b/g wireless LAN and a V.92 modem for traditionalists looking for that authentic 1997 surfing experience.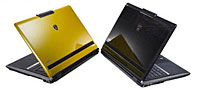 The lappie weighs in at 1.86kg (2kg with extended battery) and measures up at 317×228.6×32.15~37.5mm.
The leather clad beast is expected to slither out of Japanese shops at the end of the month for about 249,800 Yen, which is something like $2,000, or just over a grand in good ol British spondulas.
[Via Reg Hardware]