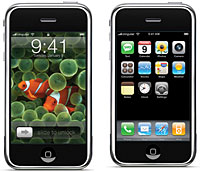 Once again Apple's legal team have rolled into action, this time over mobile phone 'skins' based on their new iPhone interface.
Straight after Apple's iPhone announcement last week, fanboys set about developing a similar interface that would work on devices running Palm and Windows Mobile operating systems.
The skins don't actually add any new functions to the phones, but once installed offer a pretty new iPhone-like interface, with the icons linking to comparable applications on the phones.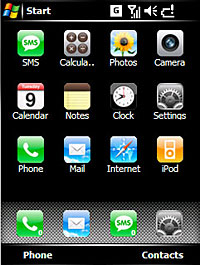 Although the skins were offered for free – and probably served as a great advert for Apple's as yet unreleased phone – as soon as Apple's head honchos caught wind of them, they reached for the speed dial and unleashed their ever-busy lawyers.
Letters were fired off to both the creators of the skins and to bulletin board admins where screenshots of the interface had been posted
Both Brighthand and Xda-developers.com forums were on the receiving end of an Apple legal missile, with MoDaCo website owner Paul O'Brien, receiving this stern warning:
"It has come to our attention that you have posted a screenshot of Apple's new iPhone and links that facilitate the installation of that screenshot on a PocketPC device."
"While we appreciate your interest in the iPhone, the icons and screenshot displayed on your website are copyrighted by Apple.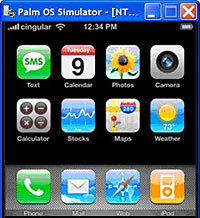 "Apple therefore demands that you remove this screenshot from your website and refrain from facilitating the further dissemination of Apple's copyrighted material by removing the link to http://forum.xda-developers.com, where said icons and screenshot are being distributed."
Michael Arrington, of tech blog TechCrunch was suitably unimpressed, "I think this is all complete nonsense. If Apple wants to go after the guy that made the Windows Mobile skin that looks like the iPhone, fine. But to bully bloggers who are simply reporting on this is another matter."
Palm iPhoney interface
Windows Mobile iPhone interface
[Via theage.com.au]