Electronics colossus Sony has unveiled a flotilla of new camcorders, all offering a super long-life 9 hour InfoLithium battery life and dual-layer recording.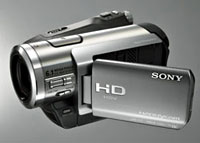 Clearly, Sony's Memorable Product Name Division were all on an extended tea-break during development, with the new camcorders all bearing fiddly and instantly forgettable names: DCR-DVD106E, DCR-DVD109E, DCR-DVD306E, DCR-DVD406E and DCR-DVD506E.
Prices are yet to be confirmed, but all the models offer Sony's Memory Stick DUO storage for recording still images, Hi-Speed USB 2.0 connectivity to a PC for whizzing the footage on to your home PC, and compatibility with DVD-R / -RW / +RW / +R DL media.
Dual layer recording gives the potential for hardcore holiday video fans to bore their friends and families for up to 110 minutes in a single recording, with the 'shoot-eject-play' feature making it possible to record straight to disk and slam it straight into a DVD player for playback.
With the exception of the cheapo DVD106E, all of the cams come with Dolby Digital 5.1 surround sound recording and the tried and trusted Carl Zeiss optics.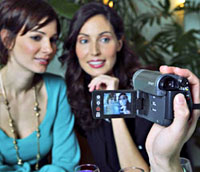 The upmarket DVD406E and DVD506E models also offer ClearVid CMOS Sensor technology for sharper images, with the topdog DVD506E 6.1MP cam sporting a hefty 6.1 MP still camera and Super SteadyShot Optical Image Stabilisation
All models are available from February 2007 with prices to be confirmed.
Update: HD (1080i) Handycam models announced
Sony has also announced the Febriary release of two new HDV Handycam models, the HDR-HC7E and HDR-HC5E, both featuring
ClearVid CMOS Sensor technology and tha ability to capture hi-def 1080i format footage onto miniDV tape.
Other features include a 2.7-inch flip-out LCD screen employing Clear Photo LCD plus technology, Dual Rec for capturing still and moving images simultaneously and a slew of manual controls for fiddling about with focus, exposure, shutter speed and white balance.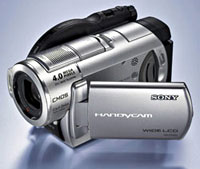 Pricing is also still to be confirmed.
Also: Sony unveils DCR-SR32E, DCR-SR52E, DCR-SR72E, DCR-SR190E and DCR-SR290E Handycam models
[From Tech Digest]
Sony