Yahoo! has launched a beta version of Yahoo! Go for Mobile 2.0, a customisable mobile search application designed to help users find stuff fast.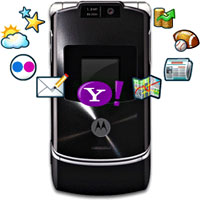 Employing a carousel-style interface, the application comes with Yahoo! Go 'widgets' offering e-mail, local information and maps, news, sports, finance, entertainment, weather, photo sharing and search functionality.
New for version two is Yahoo! oneSearch, a new mobile search service designed to give fast answers to perambulating punters.
Yahoo claims that oneSearch can recognise the 'intent' of a search term and present relevant content on the results page and not just a stream of links.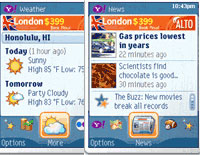 Yahoo! Go also makes it easy to get to other websites, without the need to faff about with al that fiddly http://www stuff – just type in the name of a website and you'll be taken to the site.
The included Local & Maps widget looks to take on Google's marvellous mobile mapping application and offers speedy access to interactive maps, driving directions and real time traffic updates, backed by local business directory information across the US, with ratings and reviews from the Yahoo! community.
Users can input their location and get relevant info, with local guides offering updated 'what's on' listings with details of popular places to nosh, shop and visit.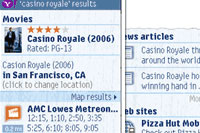 News, Sports, Entertainment, Weather and Finance info can accessed via various widgets, with the ability to add new content via customised RSS feeds.
There's also a Flickr widget to let users upload and manage snaps from their camera phone.
The Yahoo! Go 2.0 beta can be downloaded from their site, with support for over 70 other mobile devices, but not Palm (*shakes fist).