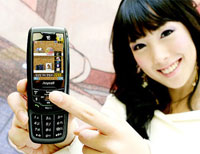 Samsung has launched what it claims is the first mobile phone in the known universe to come with an optical joystick.
You may be wondering why you'd want one of those in the first place, but Samsung clearly thinks it's on to a winner with its new SCH-V960 'Optical Joystick' Phone.
As ever, Samsung have thoughtfully included a photo of some hotty demonstrating the joys of the optical interface, showing her little digit poised over the handset's control.
Moving your digit over this control moves a cursor around the screen, just like a mouse about on a grown up PC.
The boffins at Samsung reckon that this will give users nippier access to frequently used menus and make it easy to skip through music track listings.
Weighing a pocket-pleasing 102g, the V960 is a fully fledged phone too, coming with a 2 megapixel camera, Bluetooth, GPS, microSD memory slot and a sizeable 2.12-inch 240×320 262K colour TFT screen.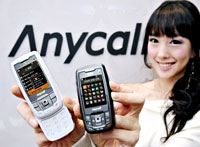 The slide-open phone also comes with an illumination sensor which automatically controls the brightness of the LCD screen and keypad, so you won't be dazzled if the phone goes off in the middle of the night.
Kitae Lee, President of Samsung's Telecommunication and Network Business was well chuffed with the new interface, "As the importance of user-friendly interface increases, Samsung is researching and developing methods that enhances intuitive use of mobile phones. Samsung will continue to combine innovative ideas and the latest technology that will benefit our end users."
Coming in black and white versions, the V960 will be launched in the Korean market at the end of this year but – as ever- there's ne'er a hint from Messrs and Missuses Samsung as to whether us Limeys will be getting a slice of the optical action.
Samsung SCH V960 Optical Joystick phone. How does it work? [unwired]