WorldSIM is offering a reduced-price phone service aimed at British Muslims who may be travelling to Saudi Arabia for the Hajj, their annual pilgrimage.
During the next month it's estimated that 25,000 British Muslims will be making pilgrimage which falls over xmas and New Year this year.
As anyone who has travelled knows, roaming rates in foreign countries can be pretty horrendous – with charges being levied to _receive_ calls as well as significantly increased prices to make calls back home.
The WorldSIM offering is offering free receipt of calls with calls back to the UK costing 'as little as' 45p/min.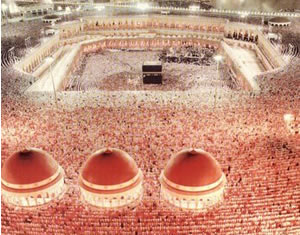 Using the Pay As You Go global roaming SIM card, users of the service are given a UK landline number to give out to be contacted on. We suspect WorldSIM has hooked up a VoIP service to transfer the calls Internationally.
Contacting the pilgrims is of particular value given the huge loss of life at last years gathering when over 345 Hajj pilgrims were killed in a stampede in Mina as they sought to complete a farewell stone-throwing ritual before sunset.
Hajj images courtesy of Space and Culture