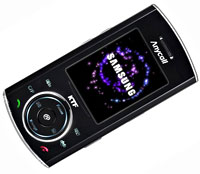 Fresh out of Samsung's hyperactive phone production line in Korea is the new Anycall SPH-B5800 DMB phone.
A black, slide-out affair with a rotary controller, a large LCD screen and a phone keypad lurking underneath, the SPH-B5800 packs in a feast of functionality in an attractive package.
As you can see from the aerial sticking out of the side, the phone supports DMB for watching TV on the move, viewable on the large (2″) QVGA (240 x 320), 26k colour, TFT-LCD display.
The display can also rotate through 90 degrees for watching TV broadcasts in landscape mode, with publicity photos suggesting that the phone is able to balance on its side for viewing (so you won't have to try and prop up against your pint glass in the pub) .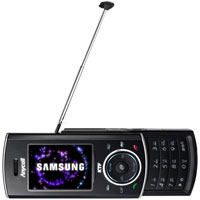 For music fans, there's a built-in MP3 player with a microSD (TransFlash) port offering expansion options.
There's also a 2 Megapixel camera onboard using a CMOS image sensor, which comes with white balance settings and can capture images up to a maximum 1,600 x 1,200 resolution.
Rounding up the feature set (or at least what we've managed to make sense of out of the dodgy Korean translation we're working with here) is Bluetooth support, a handy TV out function and video recording.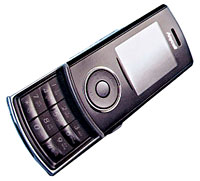 Sadly, there's no news of a UK release, with the phone currently only available on the KTF network in Korea.
Anycall (Korean)
Digital Multimedia Broadcasting (DMB)
[From: Akihabaranews]