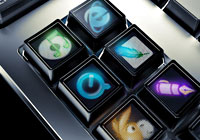 Rarely have we lusted for a new gizmo more than when we saw the promotional shots of the luscious Optimus keyboard last year.
Although you could argue that keyboards are really much of a muchness – just multiple rows of input keys – us gadget freaks have never had any qualms about dipping into our pockets for gizmos offering extra geekiness.
So when the Microsoft natural keyboard came out in '94 (you know, the one that looked like it had been torn apart in the middle), we had to have one, even if our peck'n'hunt keyboard 'skills' meant it made no difference to our productivity.
And so it went on through the 90s, with the office filling up with various keyboards all offering a bit extra – more buttons, customisable function keys, volume controls, cordless, Bluetooth, wireless, scrolling wheels – the lot.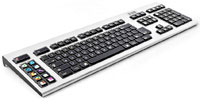 But just when we thought there was nothing left to improve on our current wireless Logitech mouse/keyboard combo with Lord-knows-how-many keys, buttons and control wheels (most unused), we clapped our eyes on the Optimus keyboard and thought we'd found keyboard heaven.
First appearing on Slashdot in July, 2005, the ultra-thin, backlit keyboard promised greater user interaction – and turbo-boosted bells'n'whistles appeal – by dynamically displaying the current function of the keys on an app by app basis.
Each key was to be a mini-OLED screen (32×32 pixels) with mini-graphic icons lighting up based on the program being used (so in Photoshop, you'd see the appropriate toolbox icon on each keyboard shortcut).
Saliva-inducing computer generated concept images illustrated how the keyboard would look when the user was playing Quake III Arena or fiddling about in Photoshop.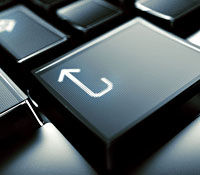 Months went by with no release date being announced and some began to suspect we'd been bedazzled by a (particularly stylish) example of vapourware.
Hopes rose when Lebedev Studio, the Russian team behind the project, released a three key-version in July 2006 (the Optimus Mini Three), and a December 12th 'pre-order' date was announced for the full keyboard
As the day grew closer, excitement rose around the office and then promptly deflated on yestyerday's news that the 103 key keyboard will now only feature boring old monochrome keys rather than the promised full-colour jobbies promised.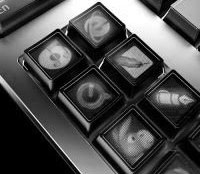 The response from their patient and loyal fans was immediate, with a chorus of posts on the Optimus blog screaming, "count me out!" at the news.
Although Optimus have announced that a colour version will eventually see the light of day "at a greater price," we suspect that the final price may even surpass our generous pointless gadget budget, so it looks like we'll be sticking with our battered old Logitech for a while longer.