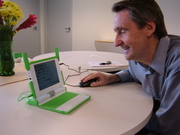 The One Laptop Per Child (OLPC) movement got a boost this week when their first production model arrived at their offices.
There's little surprise that at such a tech'd up organisation that someone had a digital camera there to capture the moment.
Have a flick though the snaps and you'll see the sheer joy of those involved as they get to touch the baby that they've been working so hard on.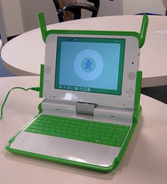 For us, the biggest surprise is the sheer smallness of it – when you see it sitting on top another 'normal' laptop it will be clear.
The design on the first OLPC machine has stayed pretty similar to the version that was floated when it was 'virtually' ready, with the exception of the lack on handle to produce electricity.
Details of who will supply key components are also starting to emerge with ChiLin of Taiwan, manufacturing the display using specialized plastic optical components by 3M. Interestingly the rest of it will be manufactured by Quanta, who are, in OLPC words,
possibly the largest company few people have heard of. Quanta manufactures more laptops than any other company in the world (almost 1/3rd of the total made), whether branded HP or Apple or others.
OLPC are planning three generations of laptops with the first shipping in early 2007.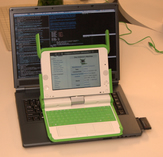 We've been avid followers of the OLPC or $100 laptop as it used to be called since the announcement of an order for 4 million machines.