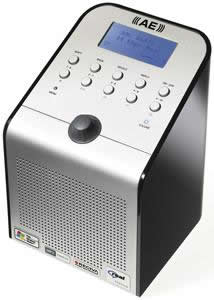 To me, there is something about the pleasure of listening to radio that is intrinsically linked to a discrete box that is a radio, and the PC experience does not quite match up, but the chance to tune into thousands of radio stations from the four corners of the world is something that excited me.
Over the last few weeks I have had the chance to use one of those new fangled Wi-Fi radios – the Acoustic Energy AE17 16B. I hoped it would deliver the best of both worlds. It looks like a radio, but when you fire it up on your wireless network, it gives you a window on that plethora of choice that the Internet has given to listeners of online radio stations.
The idea is that you 'turn on' the AE and pick either from one of ten pre-set stations, choose geographically, down to country level or from one of a range of genres that includes my own favourites, 70's and Comedy.
After spending time listening around the world, my top channel so far is RTHK, which coming in strong from the other side of the world, instantly takes me back to happy days in Hong Kong with Lynx Disco Classics to remind me of my time in a few dodgy 70's discos.
Audio quality is dependent on what the station pumps out to the Web. Virgin offers a respectable 128kbp/s, the same as you'll hear on a DAB radio, while BBC Radio 4, which is mainly talk, seems to just about remain acceptable down to about 40kbp/s. You can listen to this audio either through the radios adequate built in speaker, or via the provided headphone socket.
Listening to channels isn't always a dream. Rather annoyingly, there seem to be various conditions that drive the tastefully designed box to silence and a buffering message on the radios' LCD display. This shows the potential problems of a producer of hardware that listen to Internet radio station – as you can't reply on the delivery of the audio streams, listeners will blame the device.
The Wi-Fi radios get their channel lookup list from a Reciva gateway on the Internet, which keeps a record of the stations available and if you know of a station that's not there, you can fill out the details online at the Web site at reciva.com.
As well as letting you navigate to on-demand content, the radio has a useful feature allowing you to access mp3 tunes stored on your PC, but I'll be straight with you, I've not managed to work out exactly how to do that as yet. I will persevere, but like some of the features on the radio, it's not intuitive or easy to use.
Summary
While it does perform well once it's running, there is a problem with getting to that point.
Although the AE looks simple enough, with just a mains power supply to plug in and a headphone socket, it's not something to confront a technophobe with. There's a maze of pull down menus and you'll need to put on your anorak to enter a hexadecimal address or two if your network is a secure one.
I really wanted to like this, so I'm afraid this is only a middling 49% on the score sheet until a more simple interface is developed. Currently this is a Christmas present for the geek in the family not your ageing maiden aunt.
Overall 49%