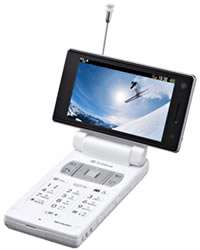 Like a hungry child with its drooling face depositing dribble all over the cake shop window, we're only able to gaze at the sleek lines of Sharp's swanky new 911SH TV phone from afar as the Japanese giant has announced that it's for their home market only.
The swivelling phone looks a beaut too, offering a built in TV tuner and a super sharp 3 inch display.
The display uses technology from Sharp's well regarded AQUOUS LCD TVs, so comes with a brightness sensor which adjusts the brightness based on the ambient lightning.
There are also three different TV modes, with the 262k colour screen able to swivel 90 degrees to offer portrait or landscape viewing formats.
A built in Micro SD card means that users can record TV programmes and watch pre-recorded films on the move, and the phone can be programmed to record favourite shows.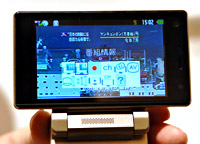 Slapping in a 1 GB card would deliver a mighty 4 hours of recording, although we're not sure how long the battery would fare when playing back videos.
Technical details are still a little vague, but the 911SH looks to come with a 2 Megapixel camera, offer video recording and Bluetooth 2.0 support and run on 3G networks.
The phone is expected to be released at the end of the week to lucky, lucky Japanese consumers, and made available in a range of seven colours.
Meanwhile, Brits looking to watch TV on the move will have to settle for the considerably less stylish Virgin Mobile Lobster 770TV phone.