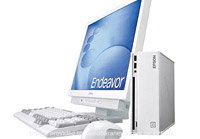 Slowly taking shape through the fug of a host of iffy Japanese web translations is the Epson Endeavor ST100, an ultra-small PC.
Looking very smart in its all-white finish, the Endeavor is a mere slip of a thing, measuring just 75x185x195mm and weighing in at an easy-to-lug-about 2.3kg.
To give you an idea of how small that is in the real world, Epson have released a picture of the PC box sitting pretty under an office phone, so if you're fed up with having a ten-ton box hogging your valuable office space, this could be the PC for you,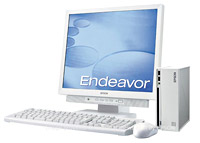 The specs look like they'll handle all your office jobs too, with the Endeavor being powered by a fairly beefy 2.33GHz Core 2 Duo T6700 mobile CPU.
Graphics are taken care of with an ATI Radeon Xpress 200M, a notebook-optimised card that sports a 350MHz graphics core speed and a 128-bit system memory interface.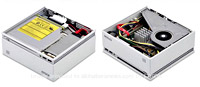 There's also a healthy 2GB of RAM onboard, with a generous 160GB 5400rpm SATA hard disk and a DL DVD burner for storing all your stuff.
No news on a release date yet but Epson have said that the unit will retail for a competitive €1,590.00 (£1,080).
[From Akihabara Nnews]