Although many media players offer the facility to burn MP3 music tracks, the job is often made unnecessarily complex by fiddly menus or hard to find options.
A compact 2.3MB download, the freeware CD Ripper looks to simplify the process of converting music CDs into MP3 tracks.
Although the interface isn't the most intuitive we've ever some across, there's some real power lurking underneath the no-nonsense program.
Running along the top of the program are a set of CD player controls underneath the usual drop down menus giving access to various settings and preferences.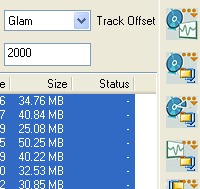 The configuration tab lets you can customise output file name formats, add files to playlists (PLS or MPU), change output file directories, choose your CD-ROM source drive, change the rip offsets and turn jitter correction on/off.
Under the encoder tab, you can set your preferred encoder, select the encoding bitrate, and set the mode to Stereo, Joint Stereo, Forced Stereo or Mono, with encoder options including Yamaha VQ, Microsoft WMA, Ogg Vorbis and a host of others we'd never heard of.
The main window is used to list the tracks to be burnt, with a set of icons running vertically along the right hand side of the program offering CD to WAV, CD to MPEG, Partial CD track to MPEG, WAV to MPEG and MPEG to WAV conversion options.
It has to be said that these icons aren't the easiest to understand but at least hovering your mouse over them produces an explanatory text pop up.
Burn it up
Using CDex at the default settings is dead simple – shove a CD into your PC, load up CDex, select the tracks you want converted to MP3s, click on the "Extract CD Tracks To Compressed Audio files" button and sit back and let it do its stuff. Job done!
For those who like to have a little more control over the process, things can get a tad more complicated, with some of the menu options being a little vague.
For example, if you want to download individual track information for your CD tracks, you have to click on the 'remote CDDB' button (last but one button on the right hand menu) and so long as you're connected to the internet, it'll try and find the data from the freedb server.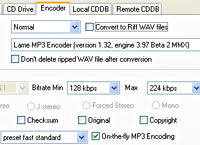 It's a shame that the program makes no attempt to tell people what the chuffin' heck 'CDDB' means (it stands for 'CD Data Base' ), and it took us a while to figure out how to set CDex up to automatically download the information (Options > Settings > Remote CDDB, select "Auto connect to remote CDDB" and include an email address).
You can also record sound files using your sound card via the Tools / Record Files menu, specifying where you want MP3 files stored on your PC, with a host of options letting you set folder naming conventions.
Conclusion
CDex is a simple, no-frills program for converting CDs to mp3s and vice versa, and it does the job with the minimum of fuss.
For users who just want to convert their CDs to MP3s without wading knee deep in menu options, it's a great tool, and power users will appreciate the hands-on control that's available in the advanced preferences.
However, complete newbies looking for big cartoon-like graphics and hand-holding wizards may find this program a little too fiddly for their tastes.
Despite its foibles, it's long been our first choice for converting CDs to MP3 files – after all, it's small, fast, simple and – best of all – it's free! Why not give it a go too?
Features: 80%
Ease of use: 70%
Value For Money: 90%
Overall: 80%