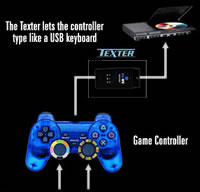 To defeat the pain of trying to enter text using an on-screen keyboard using your gaming controller to peck out a letter at a time, Blue Orb have released Texter, a small device that sits between the game controller and the game box. Using some general cleverness, the box will appear as a USB keyboard.
Once it's installed, you only need to click the left analog joystick (on PS2) to get it working. By moving the right and left joysticks in different combinations, letters are created. To understand where to move the joysticks, Blue Orb provide colours rings to put on your controller to train you. Using it, Blue Orb claim a five fold speed improvement.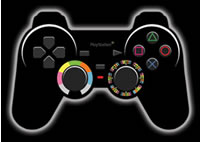 We've not tried it yet, but looking at the usage diagrams it initially looks a little complex. That's not to say that using it wouldn't become easier after some practice. We've had a lot of experience in having to use different ways of putting text in, normally by having to review so many different mobile phones. Once you get past the initial pain of using the new method, some of them can be pretty fast.
There's a brief video that tries to show the difference in using the 'normal' chicken picking method vs the Blue Orb method.
The PS2 version is available now, with the Xbox 360 arriving during December.