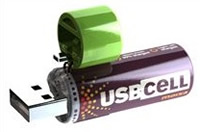 UK firm Moixa have come up with a rechargeable battery that can be re-charged on a USB port, as well as more normal battery chargers.
You know what it's like when you go on trips, you end up with a bag full of chargers and plug converters. These batteries from Moixa could lighten your load by removing a battery recharger from your packing.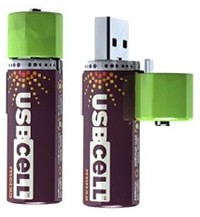 It achieves this flexibility by popping the top of the AA battery off to reveal a USB connector. Charging the currently available 1,300mAh cell fully takes six hours, but we understand that quick 10 minutes charges will give results too. Moixa claim the batteries don't suffer from 'battery memory,' where capacity can be quickly lost by brief charging.
We imagine that the batteries won't be used as the primary source of power, but highly useful for a charge anywhere backup. While 1,300mAh isn't ideal with high-drain devices like cameras, it'll get you through a sticky patch.
It initially launched in September, but somehow we didn't notice it. Todays announcement of their deal with DSGi, the largest electronics retailing group in the UK that includes such delights as Currys, Currys.digital and PC World, brought it back into focus for us.
Moixa have other batteries in the pipeline, including AAA, 9V and most interestingly, phone and device batteries.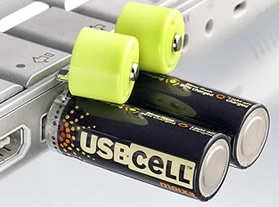 A bit of background on Moixa. You may have heard of them before, they're behind the PDA folding keyboard, which is in use in over 2 million products worldwide.
If you're wondering where the heck does a name like Moixa come from, it's the Greek word Axiom reversed. Used it in the following way, "Moixa rethinks market axioms and creates new technology and Intellectual Property."
They retail for £13 and are in UK and US shops now.