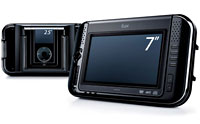 Now available for early Christmas shoppers is the rather curious iLuv i1055, a portable tablet-style DVD player with a built in 7-inch TFT LCD and twin 2 x 0.5W speakers.
Nothing too unusual about that until you spin the thing around to see that it's also got an iPod dock bolted on the back.
The idea is that you slap in your 5th generation iPod with video (30GB, 60GB, 80GB) and then play back movies stored on the player via the 7″ widescreen (16:9 aspect ratio) active-matrix LCD.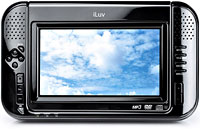 The media player comes in two colours (black and white, so you can match it to your iPod), while those with older 1st or 2nd-generation iPods can use a line-in jack on the back of the unit.
The unit also comes with an S-Video output for external TV viewing, OSD (On-Screen Display) and supports multiple subtitle/angle/audio functions and slow/fast motion play and zoom operation.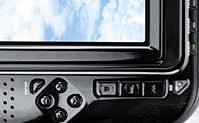 The iLuv i1055 can be powered by a 10V AC Power Adapter, 12V Cigarette Lighter Adapter or its built Ni-MH Rechargeable Battery, serving up a claimed 2.5 hours playing time (which means you may come unstuck if you're trying to watch one of those ultra long arthouse movies).
The unit has recently appeared on Amazon UK's site priced at £150, but be advised there's a 1-2 week shipping wait.