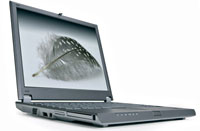 UK PC vendors Evesham have rolled out what they're claiming is the smallest and lightest notebook on the market to feature an optical drive.
Appropriately dubbed the 'Light Book,' the superlight lappie measures up at a slimline 283 x 238 x 35mm and weighs just 1.2kg.
Lurking inside its rather ordinary exterior is an Intel Core Solo low voltage processor, Intel GMA 950 video engine and a 12.1-inch XGA display (that's 1024 x 768 pixels to you and me).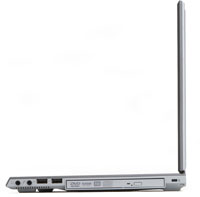 What makes this wee laptop unusual is the fact that Evesham's engineers have managed to wedge in a DVD/CDRW/Dual Layer DVD-RW drive, instead of offering the usual external optical drive bundled with most small laptops.
Users can fine-tune their own set-ups, but a typical £999 configuration comes with 512MB DDR 533 RAM, a reasonably capacious 60GB hard drive and a 4-in-1 card reader.
Connectivity options include built-in Wi-Fi, a CRT monitor output and three USB ports, with a Finger Print Identification system adding extra peace of mind.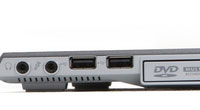 There's also onboard audio and speakers and a battery life claimed at a healthy five hours, with an optional extended battery ramping uptime to a day-spanning ten hours.
Expected to start hitting the shelves in a few weeks, the laptops will come with Evesham's three year warranty.