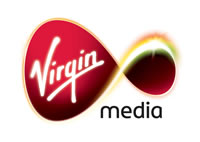 ntl are to re-brand as Virgin Media during the first quarter of 2007.
The Quad play offering (TV, Broadband, Telephone, Mobile) bring together telewest as was, ntl as is and Virgin Mobile.
Gordon McCallum, chief executive officer of Virgin Management Limited and ntl Board member explains the new direction, "Taking on the Virgin brand is about much more than a new name and logo above the door. ntl Telewest's management team has consistently demonstrated that it understands this and the commitment that's needed to succeed. Much has already been achieved and we're confident that the company's on track to deliver the Virgin promise when we re-brand next year."
Steve Burch, president and chief executive officer of ntl is clearly very excited about it, as you can see from his video below.
Frankly we think ntl needs to have a big kick up the arse as they've been in the doldrums for a long time, with a large number of subscribers dropping off and those who do use it often complaining about the level of service they get.
The re-branding announcement was synchronised with the release of ntl's figures which weren't massively impressive. They showed an operating loss of £9.6 million ($18.2m, €14.3m), compared with a loss of £4.7 million ($9m, €7m) a year earlier. They claim this was due to increased restructuring charges, coming from the three way merger.
Total revenue rose to just over £1 Billion (£1.03 billion) from £482.7 million a year earlier. Worryingly it also recorded a net loss of 37,300 customers in the quarter.