New figures from the UK payments association Apacs reveal that online bank fraud losses rose a whopping 55% to £22.5m in the first six months of 2006.
This compares to the total of £14.5m for the same period last year.
However, card fraud fell by 5 per cent during the first half of 2006, dropping from £219.5m to £209.3m, with the reduction due to increased use of chip-and-PIN cards.
Most of the online banking frauds involve phishing scams where customers receive an email that purports to come their own bank, but is in fact from steenkin' fraudsters out to con them into revealing their personal banking details.
Apacs reported that card users aren't helping themselves much, with a quarter (25%) of Brits admitting to telling their PIN number to someone else, and more than a quarter (27%) using the same PIN for all their cards.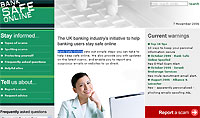 Another 44% were also guilty of letting the cards out of their sight when paying bills is places like restaurants and bars, with more than half of all online shoppers (51%) never bothering to check that they're using a secure website address starting with "https" before buying online.
Commenting on the figures, a spokesperson for Apacs said: 'These latest fraud figures show that the industry's efforts are making their mark"
"However, each and everyone of us can also help defeat the fraudsters, and protect our cards and online accounts, by keeping our PINs, passwords and personal information safe and secure."
Apacs is also liasing with banks, card schemes, retailers and systems vendors on a new online and telephone shopping authentication system that involves a cardholder inserting their chip and PIN card into a handheld reader, and entering their PIN.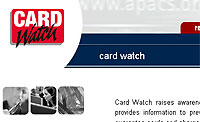 [From Politics.co.uk]
Phishing resources
CardWatch
Bank Safe Online
Recognise phishing scams and fraudulent e-mails
Wikipedia
SonicWALL Phishing IQ Test