Check Point, the makers of the top-notch internet security software ZoneAlarm, have announced that they'll be moving into the hardware market with the release of a new, high-spec, wireless router.
Due for a late November release, the Secure Wireless Z100G router uses WPA2 (802.11) and IPSec encryption, and comes with a firewall, antivirus protection, secure remote access, parental controls, Super-G connectivity and extended wireless range.
Targeted specifically at home users, Check Point say that their decision to break into the hardware market was prompted by growing concerns over security holes in home networks and more sophisticated attacks from hackers that managed to bypass gateway and PC-based security measure.
"A wireless network creates great convenience, but the technology that allows for that convenience also provides only the most rudimentary security features," said Laura Yecies, general manager of Check Point's consumer and small business division.
"By combining software like the ZoneAlarm Internet Security Suite with a secure gateway, consumers can actually have several layers of defence," she added.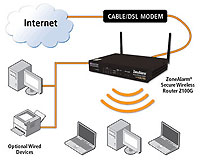 The new router incorporates ZoneAlarm's stateful packet inspection (SPI) firewall technology, and an intrusion detection and prevention system that actively monitors network traffic to block out hackers and worms.
The web-based management system will let users control peer-to-peer and instant-message communications and customise their interface with preset security rules.
The Z100G router is expected to start hitting the stores around the end of November, with an initial promotional price of $149.99 (£78, €117), rising to $199.99 (£105, €157).