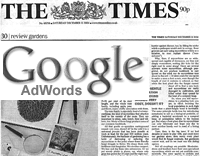 Google is set to announce a new advertising partnership with over 50 American newspapers, in an initiative designed to create an online marketplace to help Ye Olde Printe Media sell advertising electronically.
Big newspapers like The New York Times, the Chicago Tribune and The Washington Post are already onboard for the trial, with Google planning to expand the service internationally.
Under the scheme, Google will offer some of its AdWords customers the opportunity to advertise in print newspapers in much the same way as they buy advertising on the web.
Newspapers signed up to the scheme enter demographic details about their titles and give example advertising rates, while advertisers list how much they're prepared to pay for classified space in specified titles.
Publishers then decide whether to accept the offers.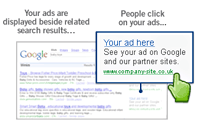 Launching as an early "alpha" trial, Google has said that it won't initially charge for hosting the service, but expects to levy a 'relatively modest commission' if it takes off.
Runaway success
Google online AdWords campaign has been so successful that they've been able to keep up with the demand from advertisers, with Tom Phillips, Google's director of print advertising, commenting about the print service: "This is money that our advertisers would spend with us if we had the online inventory for them to spend it on."
Philips added that Google wanted to help the newspaper business, but was still chasing the dollar, "We are not just doing this to be friends with print media. We are doing this because there is a big business opportunity here providing value to media properties," he added.

Google's turbo-charged revenue increases (up 70 per cent in the third quarter) continue to give traditional media outlets the heebie-jeebies, as advertising revenues continue to crash in tabloid and regional titles across the UK.
Last week, research revealed that Google is now coining in more cash from advertising than Channel 4 in Britain, with the Internet Advertising Bureau saying that online ad spending in the UK had soared 40% in the first half of 2006 compared with the same time period last year.