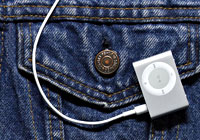 Apple has announced that the updated version of their teensy-weensy iPod Shuffle will be ready to tempt your wallet from today.
Lagging slightly behind its scheduled October release, the new half-ounce Shuffle is so small that it would fit into the pockets of Santa's elves, measuring just 1.62 inches long.
That makes it around the size of a matchbook, a significant shrinking from the previous model.
Like its predecessor, the Shuffle comes with a basic set of controls, offering play, pause, skip and volume controls with no display, and an integrated clip.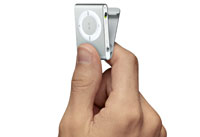 The Shuffle comes with a 1GB capacity – enough for around 240 tunes – and users can elect to play songs in sequence or randomly.
Apple claims a battery life of 12 hours and the l'il fella is expected to retail for around $79.
David Card, a New York analyst with JupiterResearch was veritably frothing with joy over the new Shuffle, "This version is a huge refinement over the original one. It's not just a cheap iPod. This is the other device you'll have. Surveys show a lot of multi-device ownership among iPod owners."
Apple's new player comes just eleven days before Microsoft is due to wheel out its Zune portable media player, expected to be the number one rival to the iPod's dominance.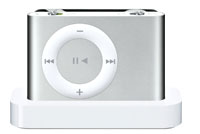 Apple has sold more than 67 million iPods worldwide in the five years since their launch, with the company currently enjoying a colossal 77 percent share of the US market.
Specifications:
Capacity
1GB USB flash drive
Holds up to 240 songs in 128-Kbps AAC format
Stores data via USB flash drive
Audio
Skip-free playback
Frequency response: 20Hz to 20,000HzMP3 (8 to 320 Kbps),
MP3 VBR, AAC (8 to 320 Kbps),
Protected AAC (from iTunes Store, M4A, M4B, M4P),
Audible (formats 2, 3 and 4), WAV, and AIFF
Headphones
Earphones
Frequency response: 20Hz to 20,000Hz
Impedance: 32 ohms
Mac system requirements
Macintosh computer with USB port
Mac OS X v10.3.9 and later
iTunes 7.0.2 or later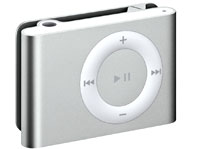 Windows system requirements
PC with USB port
Windows 2000 with Service Pack 4 or later or Windows XP Home or Professional with Service Pack 2 or later
iTunes 7.0.2 or later)
Environmental requirements
Operating temperature: 32° to 95° F (0° to 35° C)
Nonoperating temperature: -4° to 113° F (-20° to 45° C)
Relative humidity: 5% to 95% noncondensing
Maximum operating altitude: 10,000 feet (3000 m)
Input and output
3.5-mm stereo headphone minijack
Power and battery
Built-in rechargeable lithium polymer battery
Playtime: Up to 12 hours when fully charged
Charging via included USB dock
Full-charge time: about 4 hours