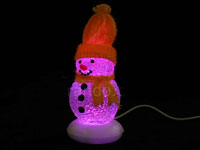 If you're having problems thinking of that perfect technological widget to make your Christmas go with a seasonal swing, look no further than Brando's fabulous feast o' festive trinkets.
USB LED Snowman
First up is a USB LED Snowman, who doesn't do a great deal apart from add a seasonal touch to your desktop by cycling through a range of colours.
He has got a nice hat mind, and he only costs $10.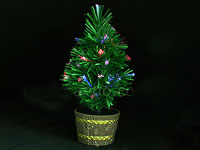 USB Fibre Optic Christmas Tree II
Going upmarket a tad, the $14 USB Fibre Optic Christmas Tree II apparently, "actually looks like a miniaturised version of the real Christmas tree" and comes in its own little pot.
Like the USB Snowman, it doesn't do very much apart from cycle through pretty colours, but it is perhaps a little more dignified than a clattering USB Snowman Drummer (see below).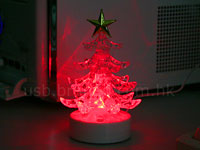 USB LED Music X'mas Tree
For office workers keen to impress, there's no denying that the USB LED Music X'mas Tree pulls out the stops, offering 12 – yes twelve – built in Christmas songs, cycling colours and a "shining golden star" on the top. Beautiful.
And it's yours for just $15, squire.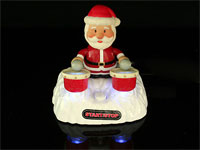 USB Drumming Santa
The real showstopper of Brando's collection has to be the top-of-the-range USB Drumming Santa.
Billed as "bringing happiness at Christmas" their $18 USB Drumming Santa Claus (Snowman version also available) looks set to redefine festive tack with an all-out assault of PC-powered lights and music.
Plug him into the nearest USB port and whoop with joy as he drums along to a selection of five Christmas songs, complete with synchronised blue lights.
Imagine the delight of your co-workers when you leave that running all day!