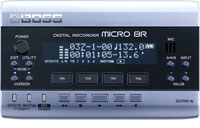 Musicians today, eh? Spolit rotten.
Back in the day, whenever the creative muse struck, songwriters would have to write down their ideas on the back of a fag packet or strut around with a bulky cassette recorder which recorded more hiss than a steam train parade.
Thanks to music gear company Boss, all that's set to change, with their stunning new pocket-sized gizmo letting musicians go one further than just recording basic ideas; with this baby they can record entire songs on the move!
Their new Micro BR – billed as the World's Smallest Pro Studio – offers a phenomenal amount of power in a package barely bigger than an iPod.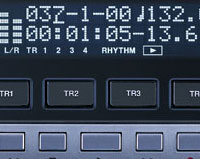 The pint sized marvel offers four simultaneous playback tracks (plus 32 V-Tracks), MP3 compatibility, onboard multi-effects, built-in rhythm patterns, a tuner, USB connectivity and SD expansion card slot.
There's also a dedicated guitar input for ambling axemen, time-stretch and centre cancel features, 293 rhythm patterns for whipping up a groove and a built-in microphone for 'laying down' your 'vox trax.'
Despite its teensy-weensy dimensions 136.0 mm x 81.0 mm x 21.4 mm (5-3/8″ x 3-3/16″ x 7/8″), there's a full complement of controls on the device, with a dozen buttons, nine knobs (for that all important 'tweaking') and a bundled 128MB SD card, offering 65 minutes of mono audio recording.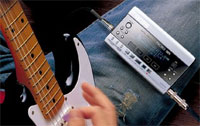 The Micro BR is essentially is a four-track studio with four simultaneous playback tracks and two simultaneous record / input tracks, but with each of the four main playback tracks having eight companion V-Tracks, users can record multiple takes and then pick the killer version for the final mixdown.
MP3 files can also be loaded up, with the ability to slow down the tempo without the pitch changing – handy for trying to learn those super fast guitar licks!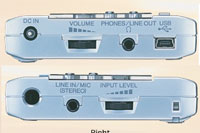 Due to start shipping at the end of the year, the price looks pretty competitive too, with one US site offering it for just $230 – a price that wouldn't even buy you a half-decent drum machine back in our day (mumble, moan, 'kids have it too easy these days,' etc etc zzzz).