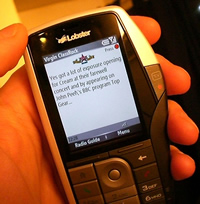 The last 18 months have seen a growing crescendo of excitement in the content and mobile phone worlds about the possibilities of delivering TV to mobile phone. The ideas been around a lot longer than that, but it's the smell of money that has heightened senses.
Virgin Mobile have been keen to show the pace in this area and BT Livetime).
The handsets are now in pre-production and are getting into the hands of a few people.
James Cridland, Head of New Media Strategy at Virgin Radio has had a pre-production Virgin Mobile Lobster 770TV in his hands for a while and has written up a review of it, complete with the four TV services and 49 radio stations.
Built by HTC, its guts are an Orange SPV C600 but the protrusion on its right hand side holds the DAB chippery. James reports that the headphones are better than SPV600, which the 770TV is based on. They also act as the aerial for the DAB receiver.
James goes into a lot more detail about the handset, but let's get down to how it performs as a TV.
The content
The four TV channels he had were BBC One London, Channel 4 Shortcuts, E4, and ITV-1 (only available in London). It sounds like the programming on the commercial channels hits a few interruptions due to 'rights.'
BBC One London is in full and free. E4 and ITV-1 generally shows a simulcast of the main channels, but at some times of the day you get a notice that the current programme is unavailable for 'rights reasons' – which, at the time of writing, includes all of E4's daytime music programming, all advertising, all of GMTV, and quite a few other programmes too: it's unusual to be able to get all four channels in full, in my experience. Channel 4 Shortcuts shows short clips of Channel 4 shows.
Using it
Starting to watch TV couldn't be easier, just hitting the TV button, which brings up the TV Guide, which he describes as a fairly comprehensive EPG (electronic programme guide), interestingly updated over-the-air on DAB.
The quality of the service doesn't sound amazing currently.
Clicking on a channel name opens a screen with a larger logo and a Windows Media 'buffering' sign, which disappears fairly quickly to be replaced with a passable picture. The framerate appears quite low – probably no more than 10 frames a second – and the picture quality does break up in fast movement; this isn't picture quality to write home about, but conversely it is pretty good at coping with variable signal quality – on occasion, you can sometimes lose the picture but keep the sound. Watching live television in a moving taxi is an interesting experience, but works very well.
Radio service
James is significantly more impressed with this Lobster as a DAB radio, finding "the reception quality is rather better than I've experienced with an FM radio," indeed, "it's no exaggeration to say that this is the best hand-held DAB Digital Radio that I've ever had."
Given his role at Virgin Radio, he's a man who knows a thing or two about radio too.
Conclusion
Despite liking the other functions of the Lobster, it appears James won't be chucking out his TV anytime soon, finding the current channels available not good enough.
I can't see too many people sitting down for half an hour of Coronation Street on this thing; and it would seem to me that the television offering needs changing – to offer more grazing-friendly programming. Sky News or BBC News 24 would be a great addition. The absence of GMTV on the phone shows what disarray the commercial broadcasters are in – why cede peak commuting time to the BBC alone?
Clearly early days in this fledgling area.
Full details are over on James' blog
Photo credit: James Cridland