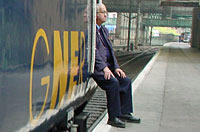 UK rail operator GNER (Great North Eastern Railways) has now completed the installation of Wi-Fi on all is trains, with the company claiming that they now own the world's largest Wi-Fi fleet.
Pushed forward from its original completion date of strong demand from passengers, the service uses a roof-mounted satellite connection and a 3G/GPRS uplink, supplied and fitted by Swedish company Icomera.
The Wi-Fi service was first trialled along the 580-mile Inverness to Kings Cross East Coast mainline service in July 2004, and a £3.2 million investment has seen its entire 41-strong fleet become wireless-enabled.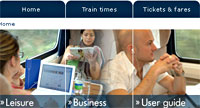 GNER reckons it will recoup the cost of installing its Wi-Fi service through increased passenger numbers, with the company confident that they'll be able to tempt car users onto the trains from major metropolitan areas like Leeds, Newcastle and Darlington.
The service is priced at £2.95 for a 30-minute internet session, £4.95 for an hour or £7.95 for three hours for second class standard class passengers customers, with access free for first class travellers.
Wi-Fi has been proving a hit with passengers, with a host of train operators getting in on the act: passengers travelling from Brighton to London have been able to connect wirelessly for some time, while Virgin Trains is set to add Wi-Fi to their West Coast mainline fleet in 2007.
"Wireless Internet has immense potential for both business and leisure users, and we're very encouraged by the usage levels and positive feedback from passengers," said Jonathan Metcalfe, GNER's chief executive officer.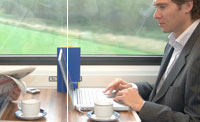 One thing Metcalfe may not be so encouraged by is the rather parlous state of GNER's parent company, the Caribbean-based Sea Containers.
The company filed for protection against bankruptcy in the USA a fortnight ago, although this shouldn't – in theory – affect the UK company.
However, GNER warned the UK government last week that it needs to renegotiate its operating licence or it'll throw all its toys out of the pram when it gets smacked down with a thumping great penalty clause for not meeting the year's performance targets.