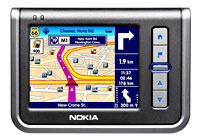 Nokia has announced its first dedicated personal navigation device covering all of Europe-land, the Nokia 330 Auto Navigation.
The Nokia 330 includes full Europe coverage, sports a large 3.5 inch colour touch screen, spoken directions and comes with a raft of multimedia widgets to keep le continental traveller 'appy.
Featuring an integrated GPS receiver, the Nokia 330 device comes bundled with a 2GB memory card containing the preinstalled Europe-wide map data aling with detailed travel information.
The Nokia 330 uses the ROUTE 66 Navigate 7 application and views can be flipped between 2D/3D and day or night views, with options to change the language or volume of the spoken guide.
To help stave off boredom in Brussels and ennui in Eindhoven, the Auto Navigation also includes a music player, photo viewer and video player (but don't go watching Rocky V when you're driving folks! Well, we wouldn't recommend you watch it any time, but that's a different story).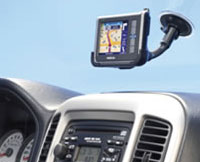 And now some corporate guff
"Consumers are increasingly eager to use personal navigation devices while driving and we are delighted to introduce the Nokia 330 Auto Navigation device to meet this demand," purred Razvan Olosu, vice president, Multimedia Enhancements at Nokia.
"Nokia 330 Auto Navigation complements the recently announced GPS and navigation solutions from Nokia."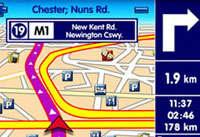 "Finding your way across Europe is simple with this comprehensive navigation package, including an integrated GPS receiver and European maps," he added.
The Nokia 330 Auto Navigation is expected to turn up in "select channels" in Europe during the fourth quarter 2006 for around EUR 360 – £240 (sans le taxes).